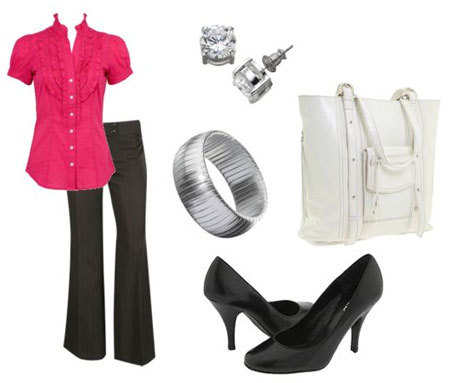 Fabulous Saving – A Guide to Office Chic Shopping
|
Some people can walk into any store, pick up items, and throw them in a bag without a worry. They can shop without looking at price tags and swipe a black card with no care in the world.
Then there are those who find themselves struggling to make ends meet. Buying a new shirt for work doesn't seem important when compared to paying the electricity bill. And they're right; it isn't. Still, that doesn't mean that you need to go to work in that tired, old blouse or the structured suit that you purchased for that interview you attended three years ago.
Everyone wants to be stylish and trendy, and women naturally love dressing up, so why are we still dressing down at work? How you dress for work is very crucial to the sort of image you maintain.
Clothes in Trinidad and Tobago are expensive; there is no doubt about that. Plus the fresh off the runway style is usually accompanied by a fresh off the runway price. That can be very discouraging. However, there are different methods you can use to create that trendy, superstar look without maxing out your credit card or emptying your bank account.
The first step is to plan your budget, so you know what you can afford, and how to stay on track with your spending. You should also consider your workplace dress code. For example, you may have to create your own look, or you have a 'uniform'. In the case of the latter, you may feel stifled, but there are ways to jazz up your look. Regardless of which category you fall into, office chic is achievable on a tight budget.
Staples and vintage pieces
When it comes to shopping, quality always trumps quantity. No matter what kind of shopping you do, this should be your driving force. Buy your basic wardrobe staples for office wear. You can't go wrong with a cardigan, especially if you find yourself freezing your tail off under the AC unit. A black blazer can be found for about $100, and can be mixed in with just about any outfit. Another staple is a black, knee-length dress. Black is a terrific color when it comes to office wear. It isn't loud so that your boss has a problem with it, and it can temper even the most outrageous accessories.
Bear in mind that being trendy doesn't necessarily mean buying a whole lot of new stuff. Vintage styles are always in, so do what I do and give your parent's closet and occasional raid (Side note: Bell bottoms are not appropriate for the office and will never get back in style.). Even the stuff you already own may be useful. When it comes to shirts, choose fabrics that are soft and patterned. Plain colors can get boring.
Uniforms
If you wear a uniform at work that can limit your options when it comes to the runway look as most companies' idea of what's appropriate might differ from your own. This is where you need to bring in the accessories. Accessories can make an outfit into a fashion statement. That drab, boring dress can turn into something special when you add a broad belt to your waist, and a strand of faux pearls around your neck. If your company's guidelines don't allow for the belt, try stopping in Wonderful World and getting some brightly colored necklaces and bracelets (they start at around $15), and match them with a stylish pair of earrings to get a finished look. The trick with accessorizing is to choose styles that don't seem ordinary. Go for the bold and slightly odd pieces that inspire the curious stares.
Location, location
Shopping around is a top trick when sticking to your budget. There have been many a time that I saw a shirt on Frederick Street for $200, and found it in a different branch of the same store (on Charlotte Street) for much less.
Exploring other options before stepping to the mall will also decrease your shopping bill. Your local, community, shopping plaza should be safe, but unless there's a sale sign at a clothing store in the mall, you are almost guaranteed to find it somewhere else for less. You don't need to go to expensive boutiques; stores like Micles and Catwalk provide a variety of pieces, which, when mixed and matched, can make a statement.
Don't knock the 'hole in the wall' clothing stores; they are filled with awesome goodies and hot bargains.
Sale – The Magic Word
Definitely, look for sales. When you flip through the papers on mornings, take note of who's having a 50% off sale, and when it ends. Try not to buy spontaneously, so that it won't cost you a lot of money. Impulse buying is the enemy, and should be avoided at all costs. Try not to shop as soon as you get paid as well. Wait a few days so that the high of having 'money in the bank' can wear off, and you can think a little more shrewdly about how you're going to get the best bang for your buck. Even if you enter a store that isn't having a full-scale sale day, you should always check for sale racks because if you keep your eyes open, you'll get a steal of a deal and a great looking wardrobe addition.
For credit cardholders browsing for sales online can save you time and money. At the end of every season in the US there is a sale to clear out stock so choose those opportunities to buy. If you don't have a credit card there are some locally run online stores that offer 'cash on delivery' as a payment option. Go online and check their sale tab.
It feels good to look good, but it feels even better to know that you look great without overspending. Being the office fashionista doesn't have to put you in the poorhouse.
Image credit: collegefashion.net