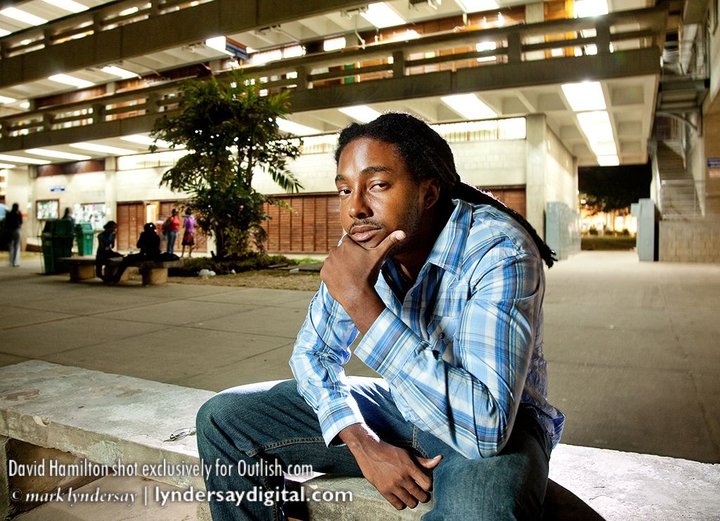 Da Face of Hip Hop Academia
|
As a genre that tends to downplay academia, and celebrate street cred over class time, Hip Hop might make you think you can't spit rhymes and ace Add Maths at the same time. Yet David Hamilton, also known as Da Face, defies this notion, going as far as to debut with an album totally devoted to school… well university to be exact.
Originally from Palo Seco, this 27-year-old made his official debut on the local scene in October 2009 with the album "Hitchhiker's Guide to UWI", which features 11 tracks about various aspects of life at The University of the West Indies.
"Plenty artistes who coming up doh start with an album," says Hamilton, who also holds a BSc in Computer Science and Management. "So me coming with an album is a different thing. The album itself is very different in terms of what it deals with. Mainly because it's my first album I wanted to do something original; something nobody did before. What happened is I was in UWI and I was a bit frustrated with exams so I wrote a couple songs, some about stuff in school. Some people might see it as a risky move, but I wanted to do something different, so that in case I never got the chance to do something different in my music career, it would have already been done."
"Hitchhiker's Guide to UWI" deals with various topics. One song, "Jennifer", talks about a girl who enters UWI as a good girl, and then goes the other way. Another – "Stress" – for which the video was recently released, explores the various forms of stress that students experience, from exam stress to money stress and relationship stress. For anyone who has walked UWI's paths, the video is a trip down memory lane, poking at memories of liming in the quadrangle or studying in SAC.
Serious topics get dealt with as well. On the song "I don't care", Hamilton raps about a guy who got so stressed out in UWI that he became suicidal; such an issue is a real one for some university students, and the song was inspired by a suicide at UWI. Hamilton also showcases his witty side on "Born smart", which is written out of "affirming that you smart, because some lecturers don't want to hear your point of view".
"The nature of the songs aren't that serious, but the album touches on topics," he adds. "The way I do it is playful and humorous."
The album was mixed and recorded by Lamar 'Beebo' Pollar, and mastered by Martin 'Mice' Raymond. DJ Pun also lent his talent on the album's skits, and artistes like Skeeto, Chinee, Gamma Ghost, and Nickolai are also featured on some tracks.
"A friend of mine made the first few beats/ instrumentals based on ideas or beats I had before," says Hamilton, explaining the process he went through when he started working on the album in July 2008. "Then afterwards that I got some music from other people. I worked closely with Beebo (producer). He recorded every single song I did, as well as mixed all the tracks. He helped me refine my style, and gave me pointers and advice. One thing I will say about doing an album is it's a lot of dedication. You have to be real persistent. Sometimes you wanna do something and somebody might set you up. You have to be real persistent to make sure you get things done."
What's especially interesting about Hamilton's model though is his approach to sales. Instead of attempting to sell his album for TT$100 or $120, he's selling his album for $20. At UWI's bookshop, it's $30.
"I sell my album at a relatively low cost because from what I've observed, people hardly buy music these days, and if so it's by impulse," he says, putting on his business face. "I sell my album at open mics. So if I perform somewhere and people find it bad (as in good), they buy. My sales are proportionate to how I perform. So once I could perform I sell.
"Sometimes I'm at an open mic, and a man will sell one album for $60. But I will sell more, say ten albums. More people get it. I did that with my mixtape as well and even made a profit. My packaging is good; I package it efficiently. The model worked before with the mixtape; at the same time, the mixtape is much cheaper to produce than a full album. Within a month I made back money and profited on the mixtape. But because an album is more expensive, I have to work much harder. My manager doesn't like it because she figures that some people might think it means the product is cheap. But that isn't necessarily the case. People don't really buy music in a store. If they go a store, they mightn't buy it, but if they see you on stage, they're more likely to purchase."
Ironically, he sold the album everywhere but in UWI… for a while.
"When I released 'Hitchhiker's Guide to UWI', people were going into exams so it wasn't a good time. So right now I'm organising a series of events in UWI that also showcases other artistes including 'Shine' which comes off on April 28 at UWI." 
With him taking such a different approach to his career, one might wonder about the type of feedback he's received.
"Most times I don't ask people what they think," he says. "Because it's about UWI, some people will like the entire album, and some only a few songs. It depends on your familiarity with the UWI experience. But generally the response is positive."
Like many artistes, Hamilton has taken to the Internet to spread the word about his projects. However, he is keener than most about truly connecting with audiences online.
"Doing 'Hitchhiker's Guide to UWI' was to get my name there, but I really believe that online marketing is key to getting an audience," says the multi-skilled rapper, who also runs the blog Underground Trini Artiste, which he started in 2008, before working on the album, as a forum to represent underground artistes.
"For example, the article I wrote on my blog about Facebook being the new radio, that wasn't something new that hit me. That was my slogan whole year. The whole reason Trini Hip Hop has been taking so long to catch on is because people had to wait for DJs to play their songs. But now with Facebook, if you look at the comments, you're probably getting a more rapt listenership than on radio, and you get immediate feedback. You can now go to a promoter or sponsor and show them the following you have, so you can get even more support. The main thing with the Internet is you can get a good connection with fans. You can get useful feedback. That is my main marketing tool. So my method sets me apart."
Hamilton continues to shoot videos, as he plans to release videos for most songs, and will continue to release his music online. Fans can also expect a free mixtape soon.
"Ultimately, I want to become the best artist possible and to be respected in the genre," he adds. "Even though what I'm doing is Hip Hop, I look at Machel, JW and Blaze and other people to learn from them and see what they're doing to propel themselves, since what I want is to be the best. It's not even a competition thing, like knife in the back ting. A lot of what I do is to help artistes. But I think if you're trying to do something and you're not trying to be the best, then what's the point of doing it."
To keep up with Hamilton, visit his blog or his Facebook group.
Photography by Mark Lyndersay.