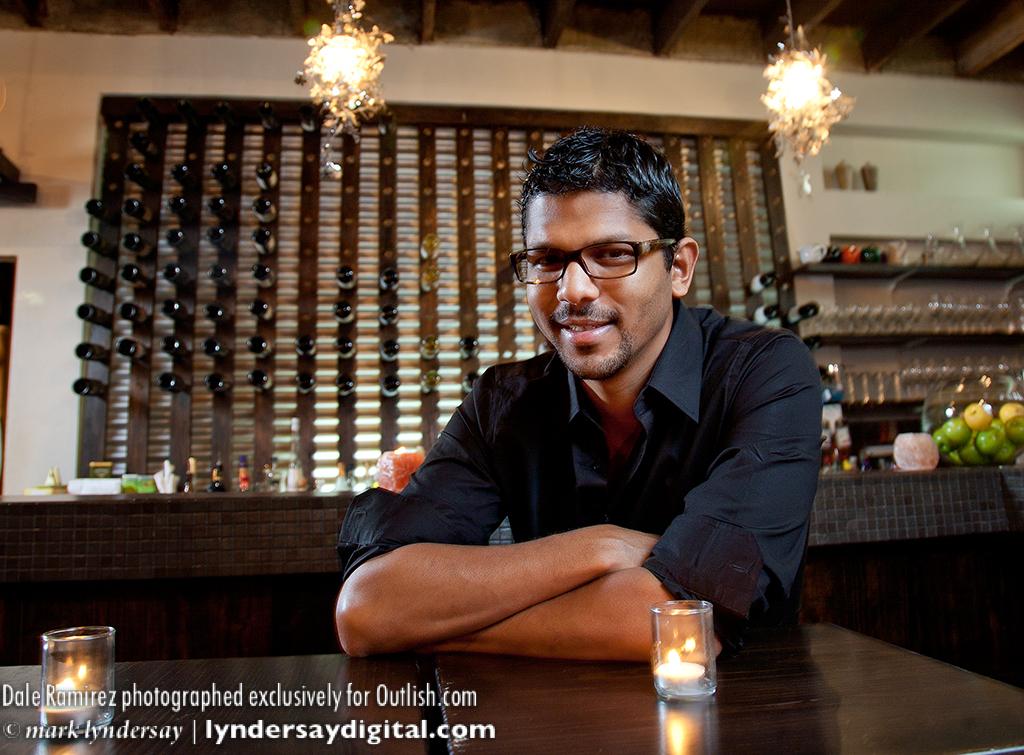 Dale Ramirez: Expanding our Tastes
|
Dale Ramirez isn't the guy you put on an obstacle course, and then expect to see him fail. A sucker for challenges, this serial entrepreneur and owner of the popular Drink! Wine Bar and juice bar Hümzinger is quite accustomed to jumping through hoops of fire, ducking flying chainsaws, and balancing tightropes, figuratively of course.
Just a week shy of 30, he's already co-owned and operated several businesses, over the past eight years, including a gadget and gizmos kiosk – which he started with a friend, an advertising agency – where he learnt, the 'hard' way, how big companies can steal your ideas, and a (gay) nightclub – where he honed his bar and nightclub management skills, before moving onto the food and beverage industry. Even with the successes he's had along the way, however, his journey hasn't been a fairytale.
Pimps, whores and petitions
When Ramirez decided to open Drink, in 2008, along with a partner, Zaaki Ali Ahmad, everyone told them it wouldn't work. "It's a dead area, parking is difficult; no one will go there. It's the Red Light District. Is only whores and pimps you'll be tending to," they said.
Located at the intersection of Rosalino and Roberts Streets in Woodbrook, Drink is definitely far from the main strip of night-time of activity in Trinidad's busy capital of Port of Spain. However, logistics were the least of their problems. The real obstacles were the people who were trying to ensure that Drink never opened its doors.
"A lot of people in the neighbourhood, including people I would have respected very much, signed a petition against me opening," he says. "The letters that I saw were so far off the mark. Because of the history of my last business, they thought it was a nightclub and it would have been a haven for 'heathens'… it was horrible! And the thing is… this one was scary because it was a huge investment. My livelihood was on the line."
This opposition resulted in bureaucracy with Town and Country Planning, and he spent almost a year in and out of the courtroom, shedding a few tears and trying to get a liquor licence. While his previous stint as a co-owner of Sky Bar (aka the gay bar on Ariapita Avenue) – which he left after almost three years – almost endangered his long-time dream of opening a wine bar, it certainly gave him experience in going against the grain.
"A lot of people didn't think of it as a legitimate business because it was a gay bar," he says. "But the thing is, it didn't start out like that. It just ended up so. I tried to break the stigma, and expand the clientele, but it stuck. Drink is what I really wanted to do in the first instance anyway, so I left that because it wasn't going where I wanted it to go and because I needed to get Drink started."
Timing is everything
Getting Drink started was torturous, and initially, during the course of 2008, Ramirez and his partner only managed to get an occasional licence, which meant Drink would be open one week, and closed the next, either because the licence wasn't granted or they couldn't afford it.
Yet amidst all of these challenges, Ramirez still had the gumption to start another business, Hümzinger Juice Company. Named after the juice bar's signature drink, the Hümzinger (made of pineapple, mango, and pawpaw juice, with a splash of orange,) it may well be Trinidad's only 100% fresh juice supplier. It also serves fresh fruit and vegetable salads, pasta dishes, sandwiches, and wraps, as part of its breakfast, lunch, and corporate catering menu.
"I actually had the idea for the juice bar before the wine bar, but the timing wasn't right," he says. "It became almost a necessity to get Hümzinger off the ground because Drink hadn't really even opened as yet. I had a whole bunch of money invested in it, with no revenue coming in because of all of these legal or technical problems. So I was like okay, I need to open this juice bar."
Ramirez soon discovered a space for rent on Maraval Road, while driving one day, and, as Trinis would say, he didn't 'stick'. By the next day, he was making arrangements to sign the lease.
"I named it Hümzinger because it has the look of something coming out of France or Germany," he says. "Let's face it. People are attracted to things that are foreign, and with that people are like hmmmm… It peaks their interest right away… It could have been called Daley's Juice Bar or Fresh Express or Squeezed Fresh or one of those common type of things that doesn't really separate you from the rest. But for me, when I hear Hümzinger Juice Company or I see the name Hümzinger next to all of those, that will definitely stand out.
"It gives that whole European feel… not that it's better, but people's impressions count. The first step is getting them into the door, then from there you follow up."
So there he was, working on Hümzinger, while waiting for the situation with Drink to work out. He eventually got the full go-ahead when the magistrate decided that the process was being drawn out, and that the authorities had no real evidence for preventing Drink from opening. Drink, thus opened in August 2009, while Hümzinger opened its doors in May 2010. Though he'd started Drink with a partner, it eventually moved to a solo operation.
Creating a niche
With the birth of Drink and Hümzinger, Ramirez has helped to change the landscape of the local, food and beverage industry. Wine bars aren't commonplace in Trinidad. Neither are food joints that only use fresh, natural ingredients.
"I'm always getting into stuff where there is a lot more work, and it takes a lot of convincing, because the concept is a lot newer," he says. "So it's almost like an educational process. I could have easily done fried chicken and probably make more money, but what drives me is to see people explore new things and new foods. One of the things people always say is it's about time we have something like this in Trinidad to widen people's palette for different tastes. You can actually have wine with chocolate or chips or something else. Or you can have probably the freshest juice you can find… because I don't think there's anywhere else that does fresh juice the way I do.
"Some people think Hümzinger means hamburger and I'm like no, it's not a hamburger joint, but the customers who would come for a hamburger just don't get it anyway. They don't get that yeah I'm gonna cut these five oranges and squeeze them right here for you. And they're like 'oh gosh', why I have to wait so long?' And I'm like, 'because I'm giving you what you paid for'. For me fresh juice is not orange juice with sugar and water. Fresh juice is orange juice from the orange into the cup."
While Hümzinger continues to grow, it's safe to say that Drink has amassed a loyal, and ever-growing clientele that one could may even dub upscale – a far cry from the pimps and whores people told Ramirez he'd attract.
"With Drink, the niche we've pinned down is not one I think anyone else was catering to," he explains. "I think it's a lot of young, travelled people or people who are just not on the whole corner spot, loud music, hail out kind of scene. You could come to Drink, and have the best time. It's low-key. Some people say they don't go to some of the popular, louder places anymore because of Drink, and to me that's amazing.
"We were supposed to be an exclusive wine bar. There was no beer on the list; just wine only. But then I realized you can't do that in Trinidad. There aren't enough people who would only drink wine and you have parties that would come from time to time, and there'd be four people. Two of them drink wine; two of them don't. And if you didn't have something to cater for them, they'd just say, 'Let's go somewhere else'. So we had to change quickly."
Drink's beverage list thus expanded from wine to select beers, classic cocktails – minus the "crazy names", according to Ramirez – and even tea, accompanied by a light menu that includes sandwiches, cheeses, fruit, and other snacks that go with good wine. Tea in a wine bar mightn't be the norm, but it's the little things like catering for the few people who'd drink tea on a lively, music-thumping Friday night that charms customers.
Ramirez will also tell you that Drink has "the best sangria around", explaining that Drink popularised the inclusion of sangria on drink lists across Trinidad, when it started providing bar services at events.
Funky simplicity
"Everything we do is very practical and tasteful," he says. "There aren't too many frills. That way, you get the best products rather than trying to put a lot of different things in there."
This approach trickles into everything, from the menu to the materials used for décor. Everything inside Drink was built in Trinidad by local tradesmen, including Drink's funky chandelier made of wine glasses, which Ramirez designed himself.
"I thought it would have been better if it came from here, rather than from some catalogue," he adds.
These simple, thoughtful touches help to create Drink's unique ambience, which makes it a pleasant spot to hang out with friends, take in a live band, or even conduct business at an afternoon meeting, over a cup of tea, and a strong Wi-Fi connection.
He works hard for his money
Running two businesses simultaneously is a huge task, and Ramirez is hands on, working alongside his staff every day, cooking, mixing drinks, and serving customers at both Drink and Hümzinger.
"I'm really tired… all the time," he admits. "But this is the journey I chose and I'm not gonna complain that I have all of these opportunities, 'cause for me it's fantastic to get up and have something to do. I have the keys to my own place. I'm more or less in control, and I like it that way."
Like most successful entrepreneurs, Ramirez is what you'd call a 'doer'. He figures out what he's going to do, and then he does it, even if it means going into superhuman drive.
"I try to figure out why I have such an entrepreneurial spirit because my parents are more traditional," he shares. "They support me though, and without them I'm nada. But I know deep down they wish I'd just get a good job, relax and come home at 4 p.m. rather than 12 or 1 in the morning, only to get up at 2 a.m. to go to the market, because that's what I have to do for Hümzinger every week."
It's obvious that Ramirez has a thing for new concepts, and having moved beyond the tried and true macaroni pie, stew chicken and callaloo restaurant or rum and coke formula, he's onto something. His profit margins mightn't be huge right now, but he believes that his businesses will continue to see positive growth.
"Already, there are people who would rather come to Hümzinger because everything is fresh, and the sandwiches are tastier," he says. "And it'll take time for people to be like 'I'd rather have a fresh strawberry smoothie or juice from Hümzinger, rather than the concentrated, so fake thing'. I could have tried to openly compete with more established places based on our differences, but instead of competing for someone else's customer, you can be creating your own."
Dale Ramirez is full of ideas, and the only things getting in the way of bringing all of them into reality are time and money.
"I keep thinking I want to meet a venture capitalist," he says. "That is what I want. Daddy doesn't have money. Mommy doesn't have money. I don't have a rich uncle anywhere. All of this is just me, and I know for me to get to the point where I don't have to physically be there (Drink and Hümzinger), and I could just be manning things from a central location, it requires a lot of money."
Long hours, and dreams of meeting a venture capitalist aside, Ramirez, like most serial entrepreneurs, continues to think of his next step:
"I'm thinking of getting into a distribution company, but everybody is telling me 'Dale you need to slow down', and I'm like I know. Thing is… I get really bored really fast, but it's not that I want to drop something and start something else. I just want to do something else too. There are just things that I do because I enjoy them, and if I weren't doing them, what else would I be doing? I'd just be sitting on my ass."
Check out Drink! Wine Bar at facebook.com/drinkwinebar, and Hümzinger at facebook.com/humzinger.
Photography by Mark Lyndersay. Mark is a professional photographer and writer working in Trinidad and Tobago since 1976. His column on personal technology, BitDepth, has been continuously published since 1995. He is currently pursuing a photo essay series about how Trinidad and Tobago pursues its culture and festivals called Local Lives. Both series are archived on his website at http://lyndersaydigital.com.
Image of Hümzinger juice courtesy Dale Ramirez.
Check out the rest of this week's issue (13/12/10; Issue 36):
Look out for a new issue of Outlish.com every Monday.
Join us at facebook.com/outlishmagazine