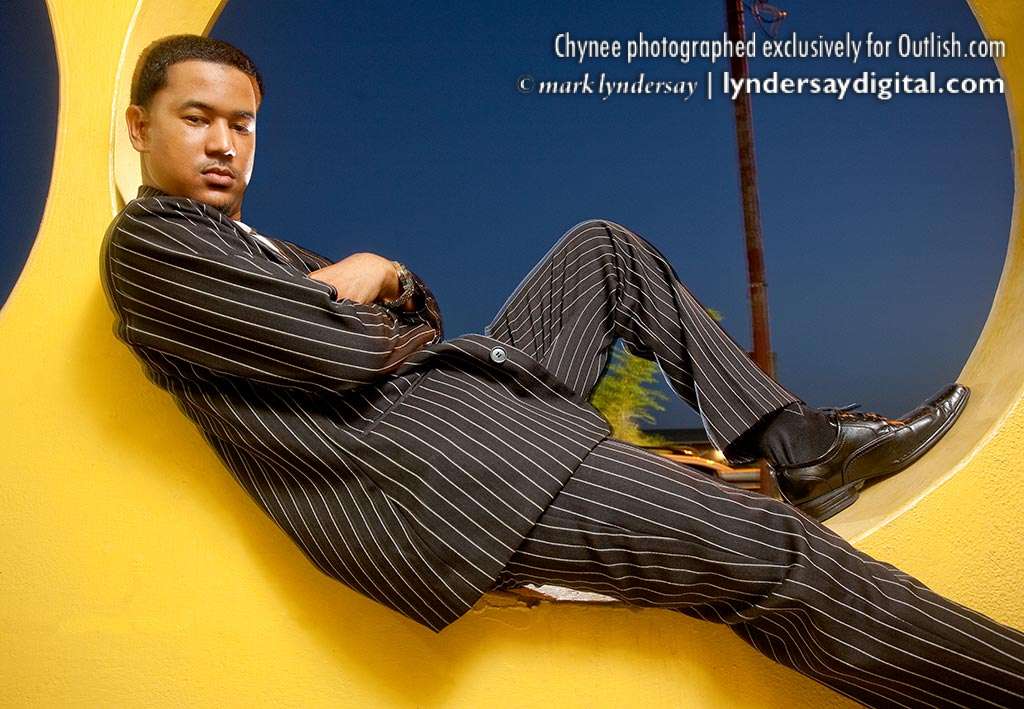 Chynee Charts a new Course
|
One thing strikes me about Richard Valentine – his quiet, humble demeanour.
Even fresh off his win on Synergy Soca Star in 2009, he was just 'chill'. He could have easily let his success at the time go to his head, but even as he performed at major fetes, like Alternative Concert, Licensing Fete, Insomnia and Soca Monarch, he knew that the real test would come after the buzz of his win settled.
Now, as he puts it, he's in the 'real world'.
Carnival 2010 was a quieter year for him, and he enjoyed some success with his the song "I love Carnival", which KMC had invited him to collaborate on. He was glad to take up the offer, as KMC was the soca star he'd been paired to perform with for the Soca Star competition, and they'd developed a good rapport. Chynee admits he'd prepared late for the season, and was taking a slow and steady approach because even though he'd been pursuing his dream of becoming an established artiste for years, he knew that it would take hard work and dedication to get to the level of artistry he was striving for.
He's come a long way since performing in church as a child, in the school hall at his alma mater St. George's College with his then class buddies, and at UWI events, where he was known for his chanting.
Still finding himself, and exploring various routes, he doesn't want anyone to pin him into a category. He's had his ups; he's had his down, but he's still in love with music. More importantly, he knows that moving on up requires taking life one step at a time. Thankfully for him, his humility allows him to do away with ego, and accept the lessons along the way.
Outlish recently caught up with Chynee for an update on what he's doing, at present, what he's learnt over the past year, and if he'll ever give up Soca.
Check out what he has to say about his journey, his entrepreneurial endeavours, and his plans for the future.
O: How have you grown as a person since your win on Synergy Soca Star?
C: Yes I have, definitely, since then I've not only learned more about the music industry, but also had life lessons and experiences. One thing I know for sure is nothing is achieved without hard work and you must always remember where you came from and stay grounded. What many people lack when they gain success is humility, and I think that is something we all need to change within ourselves.
O: After the huge hit you had with "Wanna be like" in 2009, did you feel any pressure?
C: Yeah, and that's probably why I started preparing for Carnival 2010 so late. The thing with Soca Star is right afterwards I was really busy and people were calling for me. So after Carnival 2009, I was really drained. Everything came at a rush. After that I was like, what am I going do from here now? It took me a while to get back on my feet. I have to say doing a follow up on a hit is really a hard thing. People are expecting a certain type of music from you.
People are looking for you on radio afterwards, so you have to do a song that appeals to radio. For Soca Star I didn't have a big hit. I was just fresh, performing on TV, and because of the television and the exposure, that is what helped to make the song.
Now, I'm no longer a contestant on a show, so I'm not getting that much exposure as easily. I have to work for it. I'm in the real world. I have to work hard to make sure that my music is on the radio or the Internet – somewhere people can hear it. So that was part of the hardship of following up on "Wanna be like". There was no longer a machine behind me. Now, I'm on my own.
'I have to work hard to make sure that my music is on the radio or the Internet'
O: Tell me about the new music you're doing.
C: Well firstly being apart of a local movement, I AM MUSIC, brought about by Studio 53, I have completed a song called "Outta this World". It's dancehall music with a twist. The music is slightly pop and although I "chant" throughout most of the song, there are times where I adopt an R&B style as well. It speaks about the beyond belief beauty of a woman I've met in my life.
I also have another release on the much anticipated "Hard wine" rhythm, which would be featuring artistes such as Squeezy Rankin, Mr. King, Isasha, and many other big names. My song on the rhythm is entitled "Wanton". Hmm… I'd rather you listen to the track than have me explain what that "wanton" means. I'll give you a hint though; it's very heavy! I also have another release entitled "House Party", which would come out later in August.
O: How come you switched back to dancehall?
C: I've always been a fan of dancehall music, the likes of Sean Paul, Buju Banton, Beenie man, Merciless. While listening to this over the years, I have enjoyed and understood it more and more until I've gotten the knack of writing a couple of decent songs myself. Furthermore, apart from being given the opportunity to record on some rhythms from studios such as Studio 53, it also gives me another arena to explore my talent as a recording artiste.
O: Why go back to where you started?
C: Well apart from being a favorite pastime of mine, performing in small clubs, and small events, while idolizing some of my favorite dancehall artistes, in a way, it allows me to continue what I started. Also, I guess dancehall music gives me, as an artiste, a different type of expression. To explain, while Soca music could be considered a type of quick, happy, party music, I think dancehall allows me to go a little more in-depth in my lyrics and the type of lyrics I would use.
O: Does this mean you've stopped doing Soca?
C: Oh no not at all, I will still be pelting out some Soca tracks in the future. This is just the beginning… or rather, the continuation of what I started some years ago.
O: I know your mom is a staunch Christian. Do you think that your upbringing had an impact on your music in terms of the type of messages you try to put out?
C: While I'm trying to create my own type of music sometimes you have to have boundaries too and you don't necessarily have to be too vulgar to say something. A lot of people are being real explicit with their music. People just want to latch onto other cultures. For example, people latch onto Jamaican culture and mimic it. I have nothing against Jamaican music. As everyone knows, I love dancehall. However, I think we do have to watch the sort of messages we put out. You don't have to be vulgar, and you also have to think of the impact lyrics can have. We don't have to follow everything from other cultures.
'Sometimes you have to have boundaries too'
O: What's been going on since Carnival 2010?
C: Well I've still been recording, preparing for carnival 2011, and performing at events. Right now I'm organizing with promoters to make a trip for a performance in an event in Canada, in August. But apart from that, I've gotten more focused on life, settling down and organizing for the future. Although I'm still employed in the corporate world, I am helping to run a home business and also opening up my own pet store. I'm also hoping to earn my Masters in Business Management by the age of 30.
O: What plans do you have for Carnival 2011?
C: I will be hitting very hard next year with some tough singles. I don't want to let the cat out of the bag because I really want to catch people off guard. What I can say is that soca lovers, listeners, and feters better be fit for Carnival while they can look forward to some "Chynee stamina" tunes for the road. I will also be working on a few videos for next year as well, to a greater standard than the infamous video I released earlier last year.
O: How has performing been going?
C: As the Carnival Season has been long finished, things have slowed down a bit for the time being. While I am doing a couple shows down here, I am working on bookings outside of Trinidad at the moment.
O: Got anything you'd like to share with our readers?
C: I just want to say a special thanks to all my supporters. Always have a dream in life, for without a dream, you lose faith. When you lose faith, you lose hope. When you lose hope, you stop living. So start dreaming, start living.
To stay in the loop, follow Chynee on Facebook at www.facebook.com/Chynee1
Photography by Mark Lyndersay.