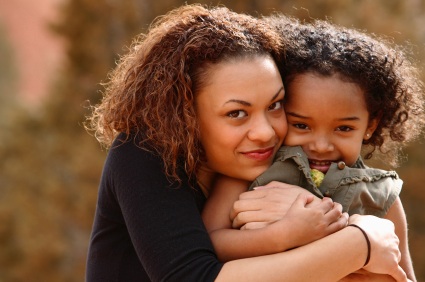 Being the Mother I Never Had
|
"…There will be times when we do parenting wrong and our kids are hurt because of our choices and decisions when raising them, but that we're allowed to go back and make amends with our children. We can say, "I did that wrong. I should've done this."
This was a recent quote by Kelly Wickham of Mocha Momma in an interview on Chookooloonks, a blog written by Trini, US-based blogger Karen Walrond. Walrond was starting a series of photo-posts called, "The Motherhood Project", featuring women who were great moms, and who also had close relationships with their own mothers.
In the short space of reflecting on the first post, one photo and eight hundred or so words, tears followed and fell. With certain quotes from the post hitting home, the sadness at being on the warpath with my own mother for my entire life, appeared suddenly, out of nowhere, slipping out from my front of "doh-care-damness". Weakening the melancholy is the strengthening of my resolve to be a different parent, my soulful salve to one of my life's greatest disappointments.
My mother has admitted to me throughout my two-plus decades on this Earth, that she killed my spirit. She didn't know how to handle an inquisitive "chatter-box" who became immune to the leather belt at an early age. It was frustrating that I was too "bright", too "fass", too everything.
I recall a childhood memory, from when I was around 11 years, trying to follow my father who had left ten minutes before to go on his usual walk. My younger sister had gotten scared and turned back, but I, having gone with him before, knew the path. Halfway there, an elder saw me and told me my dad was far ahead and I should turn around. At home, the police had already been called in about my disappearance, but my mother, instead of being relieved, flew into a frantic fury on seeing me return. I spent that evening on my knees getting licks until my dad returned home.
Being an adult now reflecting on that incident, would I have reacted differently had it been my child who wandered off? Childless, I fiercely hope that I would. I envision running down that path myself looking for her. Grasping her tightly, the hugs and the kisses to remind her that she was safe, unharmed but mostly, loved and missed. I store my own experiences to remind myself of the tenacity of youth, and that even in the desire to keep young ones safe, they too need their own life experiences.
"Always always always be their advocate, but be mindful that they need to be taught how to be their own advocate someday." – Kelly, Chookooloonks.
When I was going through a big heartbreak with my Jamaican ex-boyfriend, my mother used to invite him over for Sunday lunch. When I tried to share how hurt I was over our break-up, and how much it affected me to see him in my family home, she replied, "Well too bad, he's my friend too".
Instead of being in my corner, she once said to then boyfriend, "You know you too good for her". She loves him like the handyman, food-bringing, shy sweet son she never had (she has a son but he's neither handy nor food bringing). She much prefers this 'son' of hers to the boldface, loudmouthed, rude" daughter she birthed. She does not make this a secret, although she might only jokingly ever admit this. Only jokingly, of course.
Could I look at my childhood self 'in print' and do the same? I am determined to be aware that this tiny person has her own feelings and that her needs should be respected. As her mother, I am her first friend and her biggest supporter. I send prayers every day to the Father that when he blesses me with children, I will remember my own resentment, built up memory by memory, pebble by pebble, weighing down my heart.
"So long as it's done with love, my kids will know I have their best interest at heart, and that I will fiercely love them." – Kelly, Chookooloonks.
When I changed my major from Biology to Writing, my mother acknowledged that I was a good writer but commented, "How much money yuh going to make with a Writing degree?" After graduation I started to work full-time at Starbucks Coffee, and was determined to become an assistant manager. When I got the job after a year of 5 a.m. shifts, and being too tired to move for entire afternoons, she said, "That's what you going to do with your degree?"
CXC days taught me pride breeds prejudice, so I've admitted to myself that maybe I'm blindsided to the 'love' in my lifetime of maternal criticisms. Have I mentioned though that after all that fight-down, she boasts to family and friends of her "fiercely independent writer, formerly Starbucks assistant manager" daughter, and will (jokingly) claim that her lack of support is what motivated me to reach where I am?
Undoubtedly, my anger towards this critic from my own camp kicked me into overdrive, but I wonder what I could've achieved if I had a loving supportive mother. Knowing that someone only wanted me to be the best I could be instead of expecting me to fail would have moved my mentality away from mediocrity. Falling right in the middle because it was good enough for my personal standards and still better that what was expected.
I can't help but get emotional when I watch movies like "Freedom Writers", desiring badly to have a parent, an adult who would see my potential and foster it till it was bursting and ready to be unleashed on this world. Knowing this, I know my unborn children deserve this too. To have an ally, always at their backs to support them, in the battlefield that is this world, filled with people waiting for them to fail.
"My parenting style is very much a reflective style. When I counsel one of them, I always ask them to reflect with me on how my advice will help them, and if I should respond with something else if it wasn't helpful." – Kelly, Chookooloonks.
At 53, I at 27, she will go to her grave claiming she knows what's best for all her children, especially the rebellious one (i.e. me). Her trust that I can decide my actions for myself has been voiced, but it has never been put into action. Worst of all, she has never asked for my opinion or respected my ability to make my own choices. It has and always will be, "her way or the highway".
After all is written and offered to the Universe, I still offer silent forgiveness to a lifetime of misunderstandings between my mother and I. This is not unique to us. My grandmother and mother also have nothing more than a working relationship, held together by tradition and respect. The same character traits she detests in her mother have shaped her example of what a parent should be and ones that she now manifests. Our extended family (jokingly) calls it a 'generational curse'. In my deepest desire to become a mother and be part of what I consider the greatest accomplishment for a woman, I hope I can find the magic in motherhood to break it.
Every day I pray that I will always maintain respect for my children's personal wishes, even as kids. In T&T's culture, the relationship between parent and child is very much one-way, "children should be seen, not heard", but as the child becomes a young adult and begins to push back, good parents gradually mould the relationship into a dialogue.  The best parents express their fears, but trust their years of good parenting have finally paid off and now their young adults are equipped to experience life on their own terms.  Should they stumble, support and gentle guidance is all they need to boost their confidence to make better decisions. The best parents are reflective and mindful. I pray to be one of the best.
Image credit: iStockphoto.com