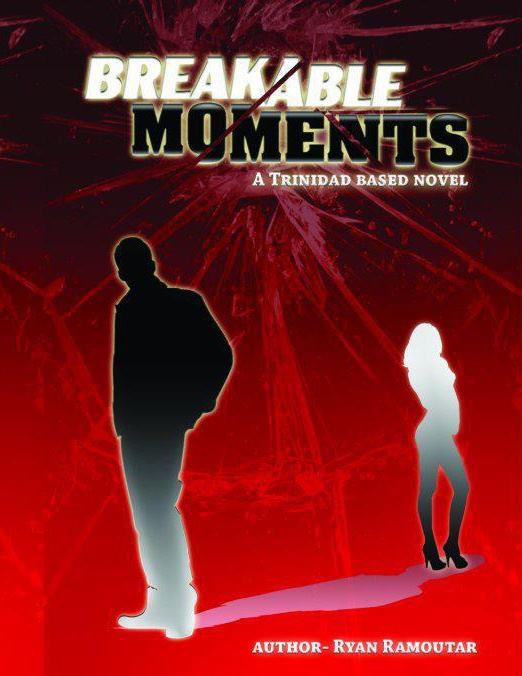 Behind Prison Walls: Ryan Ramoutar Writes about Breakable Moments
|
Written by Lyndon Baptiste.
Author Ryan Ramoutar sat opposite us wearing a jersey, three-quarter pants and handcuffs. Because it was a "special visit" we met on the second floor of an admin building in a cramped, air-conditioned half wall, half glass office, Ryan on one side of the table, his aunt, fiancé and I on the other. A lean man of twenty-five with chiselled features, he appeared terribly shy, but conversation and a nervous chuckle came easily. Occasionally, he shivered. During the interview, the door remained open and prison officers glanced in. Two seats away, Ryan's aunt dabbed her eyes while she listened. Whenever I glanced down to scribble, he joked with his fiancé, "How are you?", "Do you like my haircut? I tried something: I combed it to the side like a Chinee." Gradually, we became a family of four and an interview I had difficulty preparing for became an unstructured yet flowing conversation.
Lyndon: Ryan, it's great to finally meet you. I'd like to congratulate you on your first book. Your aunt also mentioned you secured several O-Level subjects.
Ryan: It's nice to meet you too. Yes, I did Human Social Biology and Principles of Business and Office Administration, passing with ones and twos. I had to study on my own as the subjects inmates can sign up for are limited to Mathematics, English and Social Studies. Hopefully this opens new doors for other inmates. I also hope to pursue advanced studies in Sociology, Communications and Caribbean Studies.
Lyndon: Tell us about Ryan Ramoutar.
Ryan: I was born in Princes Town. I passed for Cowen Hamilton Secondary School, a seven year school so I was off to a good start. My dad committed suicide when I was ten, then my mom left, so I grew up with my grandparents and aunts. I used to do trade: joinery and tiling. I was getting money. I eventually dropped out of school at 17 and began working for a security firm. I hoped to get into the army under a special programme. Along the way, I strayed and now I'm here in prison. I've been here for the last eight years. As a boy I used to write in a notepad. Three years ago I decided that instead of watching walls and wasting time in prison I should write a book about my personal experiences.
Lyndon: Pretend you're a salesman and I'm a customer: sell me Breakable Moments.
Ryan: The read will quench your thirst. It's a cross genre: crime and romance. According to my foreign publisher, it's a gun powder smelling romance. I used many adaptations from my life in order to give the realistic imagery to the readers, and the rest—well—it's all about my wild and creative imagination.
Lyndon: What's the message?
Ryan: Originally, Breakable Moments was supposed to be an autobiography. I wanted to let out the pent up emotions of a past relationship. [Glancing at his fiancé] Not you eh, babe. I especially wanted to highlight the small factors that could push people over the edge, such as a poor boy getting a girl pregnant and needing money for an abortion. I wanted people internationally, not locally, to understand what leads to crime in a third world country.
Lyndon: What are some other "small factors" that come to mind?
Ryan: Pursuing money for a better life. Love. Friends.
Lyndon: It's interesting that you specifically highlighted an international audience. Do you think we locals even understand how these "small factors" contribute to crime?
Ryan: The majority don't. They are driven by the media, and the media shows you what they want.
Lyndon: As we're on the topic, what do you think can be done to address crime?
Ryan: We need programmes that integrate individuals at an early stage, from preschool through primary to secondary school, programmes that address the small factors.
Lyndon: What drives you as a writer?
Ryan: Inmates, officers, family, friends, my fiancé. It feels good when people give me the kudos. Now I help teach English. Sometimes while I'm reading an inmate would shout, "My pores raising, boy!" and I feel like my writing is doing something, it means something.
Lyndon: I'm very curious: when and where do you write?
Ryan: I write in my cell. It's no problem because there are lights in the cell. I scribble in different notebooks, notes, plots, character sketches, writing, rewriting. There are five of us in the cell.
Click here to read the rest of this interview, by Lyndon Baptiste, which was originally posted at potbake.com. Republished with permission.
You can also like Breakable Moments on Facebook by clicking here, or purchase the book on Amazon.com.