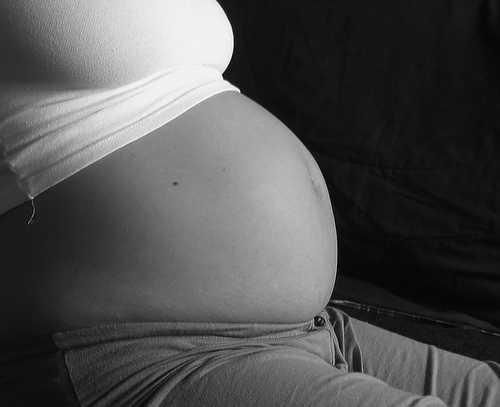 Becoming a statistic. Do you let life happen to you?
|
If any of you know me, you know that I am not in any way a mathematician (I sat CXC Mathematics three times, and I am yet to receive the pass that I desire), but I became very aware of becoming a statistic when I was pregnant, and part of the stigma that went along with it.
Being pregnant with my first child, at the age of 17, I went to the Port of Spain General Hospital to receive medical attention.
Little did I know that scrutiny came hand-in-hand with medical attention from the nurse on the morning shift. She looked at me and said, "Why black people children does only come in here with big belly while the East Indian children going an get dey drivers license?"
I just watched her and smiled. One thing that my mother taught me was to respect the elderly because the things that were running through my mind to tell her were not very pleasant.
On the morning I gave birth to my daughter, the cleaner came in my room. She asked what I had, and I told her a girl. She asked me what I wanted to be; I said a teacher. She said to go ahead and fulfil my dream despite what any one tells me. Hmmm… words from a cleaner that stuck with me for life.
So there I was with only five O' Level passes and a baby.
'So there I was with only five O' Level passes and a baby'
I made it my business to pursue my education despite the negative input that was being dumped in my life at the time. My dream of becoming a teacher was not to be lost because of one obstacle that was in my way.
People soon started to ask the question, "So when are you getting married?"
People have this assumption that because you have a child with someone that you now need to marry them. I told them because I have a child that didn't mean that I wanted to get married. The father and I decided two years later to walk down the aisle. That was a whole other story by itself.
Being married you would think that it was okay to have more children. I thought wrong.  First to begin, on telling my husband that I was pregnant again he wasn't too impressed and asked me to have an abortion. I blatantly told him we are now married, and we should welcome the child as a new part of the family.
Things sort of spiralled in our marriage from that day on and sad to say yes, we became one of the statistics of divorces. I do not think that our "failed" marriage had to do with how young we were, but at the rate at which we each grew personally.
Upon deciding that I wanted a divorce I understood what that meant for me financially, paying the lawyer, and now having to pay a rent on my own (because the ridiculous amount of money that the court gives you doesn't even make a dent) and being able to supply the needs of the children.
The children being just two and six years old, at the time, were torn between being loyal to both parents. My daughter, being the older one, assumed an adult role, which she had no right to take up. But that is how she dealt with the circumstances.
There were nights when they looked out the window and cried for their father and asked me when he was coming to see them. Those days were heart-wrenching when I looked at their tear-streaked faces.
'Those days were heart wrenching'
I knew that I would never be able to fulfil that father role for them, but I found some men in my life who took it upon themselves to see my kids as their own, and to them I am grateful.
Single parenting is hard, but I refused to let my children grow up without at least one stable parent that they can depend on. I became a sales representative, as a side job to make some extra money, but that did not work out too well.
To keep my sanity and my children's intact I joined a non-governmental organisation – the Trinidad Youth Council. This became my comfort zone and my family. It was a place for me to express myself freely, and my children were able to socialize instead of leaving them home alone to engage in mischief. I have heard so many horror stories of children falling through the cracks because of their parents' mistakes, and failure is not an option when it comes to the welfare of my children.
Based on my life I must say yes I was a statistic on many occasions, some of my own free will, while others just fell into my lap. However, I refused to allow my bad experiences to keep my head from going under, and, my family and friends – being a very strong support system – threw me life jackets and ropes to hold on to.
Would I ever want to change what has happened to me? Not at all.
Throughout all my experiences I have learned something valuable, and that has made me into the ambitious, strong, independent woman that I am today.
I am currently pursuing my Bachelors of Education in Education Guidance and Counselling. I have my own company, and I am a Special Education teacher.
You can either allow your challenges in life to make you or break you. Guess which one I chose :).
Author bio: Fayola Vidale is a Special Education teacher, and Founder of Spiral – We put a twist on beauty, which helps young women to promote and sell products they make. She also hopes to host workshops aimed at empowering women.