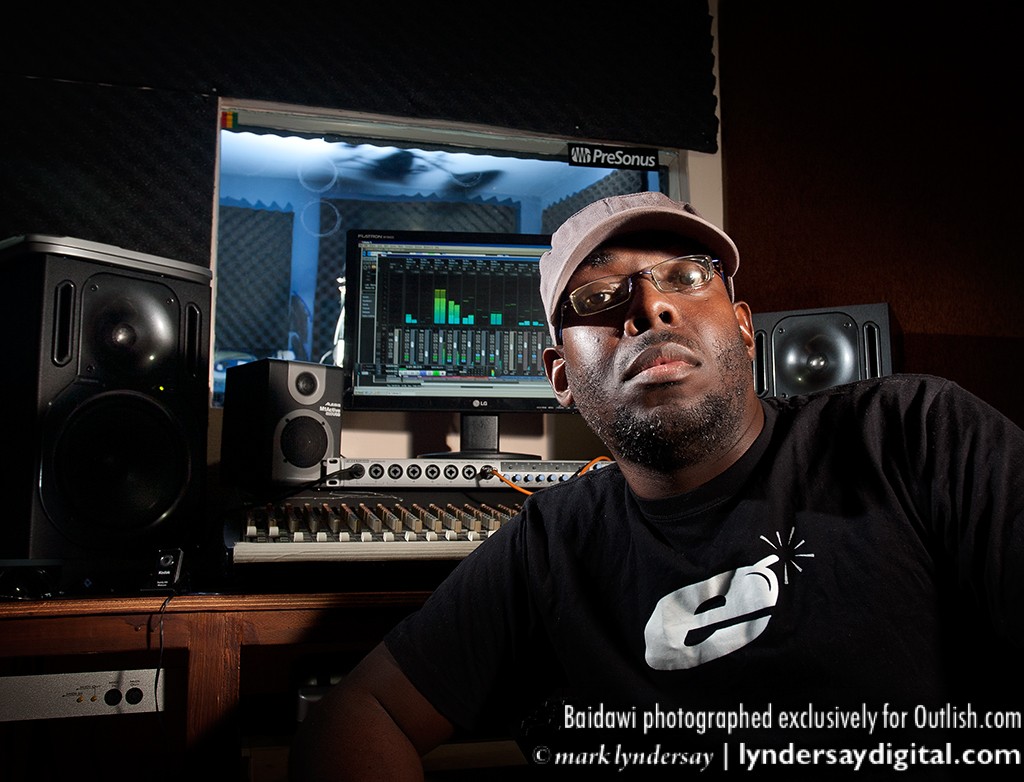 Baidawi: Detnating Beats and Sounds
|
Deejaying since age 13, in 1989, Baidawi Assing has attached himself to music in much the same way that the treble and clef can't be removed from a score of music.
He's moved from his early teen, amateur days of making tapes from recording tunes off the radio and playing for house parties using two cassette players and a mixer, to finding his true calling as a music creator, alongside his musical partners Quincy Ross (known as QD Ross), and Spanna Guevara (who prefers to not release his Government name), with whom he started detnator – a creative unit, devoted to experimenting with beats, sounds, and rhymes.
Growing up with a father who played music in several bands and being surrounded by guitars, amps and speakers, Baidawi was consumed with a love for music. His love for experimenting went into full toutoulebay scale, when his father bought a drum machine – the Korg DD1. This, he said, was a defining moment because not only did he have a need to interfere with this gadget, he also had a need to start making music. Add his brother (Usama "Saber" Assing) who also had crates of records, samplers, and recorders, and was making beats and rapping, and Baidawi had even more tools for experimentation. As his prowess grew, in the 90s, he started producing beats for Spoiled Brats (a dance group that won Party Time, and went on to get involved in performing), young rappers Kendall "IceKream" Arneaud and Dexter "Bo Jungles" Baird, and his cousin Nisar, who had a rap group called Cactus Nation. With improved beat making skills, and access to more equipment, he felt he could officially call himself a producer. During this time, he was known by the monikers, Bassing (his DJ name) and Deep Thoughts, people soon started calling him DT, which he eventually changed to detnator.
Years later, detnator is still doing their thing, and Baidawi is still in love with music, even while he 'makes a living', on a self-employed basis, doing IT consultancy, technical and network support, graphic design and web design.
He chatted with Outlish about detnator's latest work, the group's creative process, future projects, and why he thinks there's a place on the world stage for Rapso and not Soca.
Outlish: detnator's bio says, "To put it bluntly, we make music and create other things related to or inspired by music, art and other forms of creative expression". Expand on that for me…
Baidawi: I would actually be doing detnator a disservice by trying to nail down everything that we do because sometimes we're not even too sure. One day we might be producing music, the next day we might be directing a video shoot for a TV commercial, the next day we might be helping to organize a street art festival, or making fettuccine for a cooking blog. The thing is we're creative and we have a ridiculously large skill set that allows us to get involved seriously in many different things from conceptualization to the actual execution. It's the approach to what we do, to obtaining knowledge and skills etc that makes detnator, detnator.
Detnator is a thinking… an approach which grew into a brand, which then grew into a company. Some people may watch detnator and say it's a group of producers, but we do much more than just produce music and the thing that makes detnator what it is, is all in the approach to what we do and the reasons for doing it. We love music and creativity… being able to communicate ideas through different forms of creative expression.
Outlish: You'll really started coming together in the late 90s. How did that come about?
Baidawi: The group only formed when Quincy, who I met up with in Barataria Senior Comprehensive, came by to check me I think in 1997/1998 or so, and told me he wanted in on this producing thing. Quincy and I were likeminded in many ways so I was eager to make him part of detnator. He came on board and that became another defining moment in detnator history, because that is when detnator actually became a group. Fast forward to 2007 or thereabouts, and I started talking to my cousin Umar "Spanna Detnator" about us doing some collaborative work. He was out in Toronto doing his thing as well, producing music for his company Nevah Dirty Productions. By 2008, we were talking about seriously consolidating our efforts, and, in 2009, Detnator Entertainment Limited came to fruition and The Bomb Shelter (their workspace) was created.
QD Ross.
Outlish: What do Quincy and Spanna bring to the table, and what are your individual roles?
Baidawi: Quincy and Spanna produce as well, and they both have unique approaches to music. Quincy is also good at coming up with melodies for songs. He can hear an instrumental and work out exactly what the voice should be doing on the track.
There are no designated roles… we have different strengths and we operate within our different capacities towards a common goal. While I am considered the leader of the group, my function within that framework usually only extends to charting a course for detnator. However, because of the nature of what detnator is, which is an approach to creativity/ music/ expression etc. I actually just have to be myself and do what I'm accustomed doing and that role is fulfilled.
Spanna.
Outlish: You recently worked with up n' coming, local Hip Hop artiste David Hamilton aka Da Face on his latest track "All the things we know". How did that collaboration come about?
Baidawi: Facebook! I made a few connections on Facebook via the detnator page. A few local rappers and producers were adding me and tagging me in stuff, and I was really impressed with some of the work being put out. I heard some of Face's tracks off his "Recession Music" mixtape, and contacted him to feature on one of our tracks. I'm working on a project, which is going to launch a new sound, different blends of electronic music, but featuring local talent in local dialect. I didn't have any plans to label it anything in particular, but Nicholas Haskell came up with the label "Futurerapso". I'm definitely going to call on Face again to feature on something. I think there is a place on the world stage for Rapso music…. not Soca.
Outlish: Why do you think there's a place for Rapso and not Soca?
Baidawi: I think that Rapso has a broader context that allows it to take on many roles while Soca music is predominantly dance music. Rapso can strike a harmonious balance between being groovy yet communicating a serious message. A song like Brother Resistance's "Cyah Take Dat" is a perfect example of this. I had the pleasure of seeing Brother Resistance open for a Steel Pulse concert in the Queens Park Savannah a couple years ago, and I could see anyone taking that exact performance and placing it anywhere in the world with people from varying cultures and it would be just as potent, just as relevant.
Soca is incapable of doing this because its context is very narrow. Even from a musical perspective, it is very easy to mix, merge and experiment with Rapso music with other genres without obscuring its impact on the audience.
At present, we (detnator) are currently "exploiting" this, as we have embarked on a new project labelled FutureRapso, a label that was created by Nicholas Haskell, which aptly describes some of the experimental type music we have been doing with local Rapso artistes. In the past we have done tracks like Curious Ringo – "Back To A Place", Daaknite's – "The Power Coming Strong", Ozy Majiq's "Identify", and a remix of Rembunction's "It Starts Now", where we mixed Rapso vocals on beats heavily influenced by electronica. Presently, we are working with Rembunction, Daaknite, and Curious Ringo on the Futurerapso project, and we have plans to work with much more local artists to turn Futurerapso from an idea into a brand (kinda like detnator nah!).
Outlish: Do you put out albums?
Baidawi: We tried to put out one album for a local rapper called Zeik. The title was "All About Z". But that didn't go well. We put out promos and samplers… since 1999 we've chosen the tracks for our debut album aptly titled "Of Plans And Procrastination". Those tracks are still sitting on a hard drive, waiting to be resurrected. That album has yet to be completed.
Outlish: You describe your sound as experimental. What's detnator's creative process like?
Baidawi: It varies… sometimes I might dream a melody then jump out of my sleep and run to the computer to play it and save it, but it's never a conscious thing with me. Spanna and Q can consciously have melodies in their heads that they can sit down and play… I dunno how they do it. It's amazing and it is something that continues to evade me. Sometimes I will literally sit behind the keyboard and just fiddle until my hands do something that my brain responds to and says, "Aye Baidawi… I like what your hands are doing there… hit the record button". Other times, it could be from watching a movie, hearing something on the news… having a convo with my woman. I draw inspiration from life's experiences… the good and the bad, and I channel the emotional effects of them creatively. However, the experimental label comes from the approach where I never set out to do a Hip Hop beat or a Trance track, or a Soca track. I set out to do music.
I never follow trends in music and I never create something that people will like… I just do what I was born to do… I create and however it comes out, it comes out. There are times I create something and to me it sounds like the sh*ttiest thing ever, then Quincy or Spanna would hear it and say, "Nah that mad! Lemme do so and so with it".
The process is very messy when you're looking in from the outside, but there is a method to the madness… I just don't know what the method is… I'm just aware of the madness part.
Outlish: What other projects is detnator dabbling in at the moment?
Baidawi: We're working on a debut album for Curious Ringo called "Curious City". We've been working on the DND Project (Detnator & Daaknite with James Hackett), which has a similar vibe to the Trinidad Street Fest, where we marry art and music in a public space. Spanna is currently helping organize an event similar to Street Fest in Toronto.
We're working on our video series, OneTalks, and trying to release episodes more regularly. We're working on the FutureRapso project. We're also involved in Trinidad Street Fest. I've known Suelan (who's leading the project) for some time as well. When I heard she was planning on doing the TSF, I shamelessly offered to lend a hand where needed. I love that kind of stuff. Beats going to a club any day.
To check out detnator, visit their website detnator.com or their Facebook page https://www.facebook.com/detnated.
Photography of Baidawi by Mark Lyndersay of http://lyndersaydigital.com. Mark is a professional photographer and writer working in Trinidad and Tobago since 1976. His column on personal technology, BitDepth, has been continuously published since 1995. He is currently pursuing a photo essay series about how Trinidad and Tobago pursues its culture and festivals called Local Lives. Both series are archived on his website at http://lyndersaydigital.com.
Check out the rest of this week's issue (04/04/11; Issue 51):
Look out for a new issue of Outlish.com every Monday.