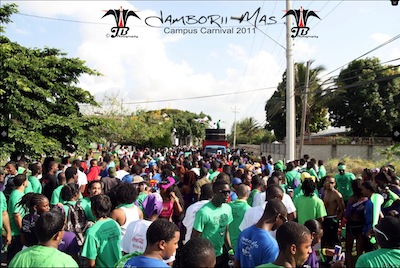 Are UWI Students better off without Campus Carnival?
|
They say that the one thing you could get a Trini to protest for is Carnival. So either the administration of The University of the West Indies' (UWI) St. Augustine campus didn't hear that before, or none of them are Trinidadians. Either way, we also say, "Who doh hear does feel". It looks like the Campus Principal is in for some feeling.
For those who don't know what I'm 'getting on' about, as of last week, the administration of UWI, St. Augustine, has placed a moratorium on the annual Campus Carnival Parade of the Bands, the University's premier Carnival experience.

For the past couple of years, the parade has gotten bigger, and drawn even more people's interest, either as revellers or onlookers. The administration has stated that the event has gotten too big to control, and presents a risk to the safety of the University's students, who are their major concern. It says that they've brought more security ,and even asked their staff to volunteer as chaperones of sorts. But still, de mas get too big. So their solution is…stop de mas.
Within an hour of the news hitting Facebook, students started expressing confusion, sadness, and even anger at their beloved Carnival being no more. A day later, photos saying, "You can help get it back…it serious", were being shared on Facebook. So they were right; we would fight for Carnival.
The moratorium seems to have sparked a debate between those who want Campus Carnival back, and those who don't, around the idea that students prefer to mobilize around a celebration that the higher-ups have said is unsafe.
It doesn't help that, for those who are greatly invested in maintaining a first-class honours GPA, the celebration is just big, noisy, disruptive, juvenile and unbecoming of an institution of higher learning. An institution that has degrees in Cultural Studies and Carnival Studies, and therefore recognizes the significance of the culture of a space. An institution that recognizes the importance of cultural identity and connecting to that agenda through student-centred activity. And, most importantly, an institution that throws a fete at the Principal's residence on campus.
So, do students have the right to complain that they're better off without the Campus Carnival? Of course they do. Just as much right as a Trinidadian has to say that Carnival is unnecessary for the people of Trinidad and Tobago. That doesn't mean that people would get rid of Carnival, a celebration that is so entrenched in our culture as a people.
I myself am not the jump-and-wine type, but I understand what Carnival means for our history, as a nation with so many stories to tell, and what it also means to those who connect to that history and culture in the now. The Campus Carnival is no different…well, in essence. Though people can argue that it is nothing like the Carnival that it is born from, it is UWI students' way of connecting to the Trini spirit of revelry in a way that can be creative and responsible.
Even though there are a great many concerns about the Carnival, does that mean that they have enough reason to get rid of it?
When officials thought that it was too dangerous, they invested in more security and used them more strategically. When some thought that it was too monopolized by larger mas bands, people made their own and gave people an alternative.
There isn't a problem that a little forethought and investment in solution can't actually solve. People complained that the security didn't stop revellers from being unruly and disruptive. That's not the Carnival's fault.
People complained that some bands created a monopoly on costumes. That's not the Carnival's fault either.
Does the administration bear the responsibility of creating solutions for a student-run event? I say yes. After all, whose students are they? It's the Guild of Students of The University of the West Indies that hosts the event, primarily for students of the campus and youth who aspire to join, to connect to the Carnival spirit of the nation in a small, more controlled space. And revellers, the people that the event caters for, don't have too many complaints.
So instead of destroying the festivities altogether, doesn't it make sense to give in to some solution-making so that everyone walks away happier?
This is not to say that the concerns of the administration aren't legitimate, but they should be focused on fixing those concerns, as opposed to using them as a reason to take away one of the things that we Trinis love no matter where we are. And doh blame the Carnival.
Image via Jamborii Mas. Photography by JB Photography.
Look out for a new issue of Outlish.com every Monday!
Stalk us on Facebook @facebook.com/outlishmagazine