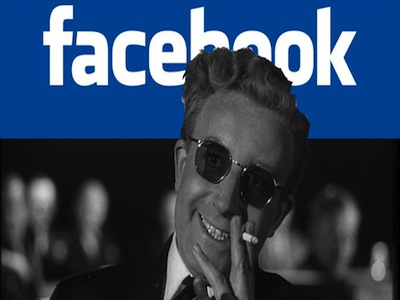 April 28: The Day Facebook Took Over T&T
|
The year is 2020, and no one has a vision. But they do have Facebook. Still… this world is not the world you know…
In an age where Facebook rules the world, people scurry around trying to protect the one thing they still have. Their thoughts. Or at least the ones they don't put on their Facebook status.
ID cards have no use (Thank God, because have you seen how lame a Trini ID card is?) and unless you're on Facebook, no one knows you exist. This is the world Jane Eyre lives in. No… not that Jane Eyre. I'm talking about the Jane Eyre from Carapichaima who uses the name Jane Eyre on Facebook, or at least used to… until Facebook found out she was using a false name.
"How dare she try to protect her identity," were the screams heard from Mark Zuckerberg's office, when he discovered this atrocity. "These Caribbean people. They think they can outsmart me? They don't even have a Silicon Valley and trying to one up me? I will expose all of their liming activities and expose all hornerman and woman!"

Word is, that after weeks of delirious rants about this Jane Eyre, who the world eventually found out was actually named Chanchanee Iwasnotinthatfracas Montano, the only thing that calmed him down was a visit by Trinidad and Tobago's own High Commissioner, Narvin Gicholas, who brought him the finest, dark, chocolatey rum, made in the most respected district in the country – Laventille, and a pan that played the finest, stereotypical Caribbean rhythms, like "Palance", which Lady Gaga remixed after meeting Kernel Roberts at a private concert for T&T's Prime Minister Samla Pisessar, in 2015. She was also perfectly aghast when she heard about Comando Tiburon biting his music.
"Gaga was so upset that for two weeks, she wore an "Iza Trini" t-shirt with a poom poom shorts."
Gaga was so upset that for two weeks, she wore an "Iza Trini" t-shirt with a poom poom shorts. T&T's tourism industry skyrocketed after that. But I digress. This story is about how Facebook started ruling Triniland.
See, Facebook totally eradicated privacy. Life changed when they upgraded the messages feature, and gave us the option to start using "insertname"@facebook.com.
It became the real superpower… something that seemed set in motion since Obama visited FB headquarters in April 2011. FB owned and controlled our lives. FB controlled everything, even the People's Partnership. There were no more outbursts from unruly politicians, since, now, they were just as much at risk as the rest of us.
With the new e-mail and all the tracking going on, there was nowhere you couldn't be found… unless you were in Piparo. With that one click of "Yes, I'll use your e-mail Facebook", paranoia reigned supreme. You couldn't send e-mail, without FB headquarters immediately intercepting your messages. FB saved your silly forwards, your love messages, and your naked pictures (you naughty person you). Yes Gmail, Hotmail and Yahoo did it too, but with Facebook they actually took action against you, depending on what they found.
And every message you sent to a Gmail, Hotmail or Yahoo account kept bouncing back. And this time, mailerdaemon didn't hide his true identity. He frankly told you that he was a mailer demon, and, really, it all made sense that Facebook would hire him to block your communication. For years, people had been calling Facebook the devil, so them hiring a demon to manage that realm of the interwebs wasn't rocket science. It was PTSC bus science.
So someone like Chanchanee had no chance of maintaining privacy. And once Zuckerberg found out her true identity, things got worse. He found out that she was a member of the BBM, a rebel group that communicated with each other with old BlackBerry Curves. FB agents raided her home and workplace. They found her BB. They confiscated her BB. They gave Zuckerberg her BB. He knew who her friends were. Up to that point, the rebels had managed to stay below the rim, or so they thought, because Zuckerberg had bought RIM years ago.
"Transfer all her contacts to my old Blackberry Torch," he instructed. "I will broadcast message them, and they will LIKE it!"
There was nothing Chanchanee could do. But then she remembered that her neighbour Jack had warned her about this. He despised FB more than anyone else. They reminded him of FIFA, with all their scrutiny.
"D-d-dey luh luh luh like to puh puh put peee pulll's co-c-coa in de sun!" he'd shout.
"Chanchanee didn't like it one bit either."
Chanchanee didn't like it one bit either. She didn't want her boyfriend Larry in Princes Town to find out about Tom in Toco.
She didn't like this level of macoing. She didn't like that Facebook made millions of people more paranoid than usual. She didn't like that Facebook made stalking perfectly acceptable. Honestly, stalking someone on Facebook seems to have shot to the top of the list of the things you do to prove you're interested in someone. In 2020, if people find out that you haven't tried to maco them, they're offended.
Only the old folks quarrel about this new rule of dating, and go off on a tangent about oh how "In the old time days, people used to maco man and woman with class!"
Having grown up with her granny, Chanchanee didn't like it one bit either. She wanted them to bring back de ole time days.
Back in 2011, we used to maco after the fact. We used to maco when Rachel Price updated her page status, and ended with her usual "Bless". And in the old time days, we had limited profiles and could block people. But in 2020, if you had a premium Facebook account, which costs about US$100 a year, you could maco in real time. There was no enabling or disabling of 'checking in' to places. Wondered what Freddie was doing when he told you he was going to 'sweat' with the boys? Log in and find out.
FB knew where you were every second. They claimed that it was all a part of expanding their revenue stream, but we all knew that it was a sign of the end times.
See, with that one click of a button on April 28, 2011, everything changed. After we started using FB's e-mail, they flipped the script and made the unprecedented move of making us all use one password for all of our accounts across the Internet. Then, when we got accustomed to that, that one password replaced our Linx and credit card pins. Forget chip technology. It was all about FB technology.
If we had known that day, on April 28, how our world would change, we may not have clicked that button. But, like any real good pusha man, Facebook knew that Trinis needed to maco, even if just a little, so they'd keep using it.
Still, Chanchanee wondered, "Why is he so caught up with me? Me eh know he. What I do he?"
Then she remembered… He was de white boy she had refused to wine with in Tribe for Carnival 2K13. And everyone knows that anytime a woman pisses off Zuckerberg, a change is gonna come with Facebook.