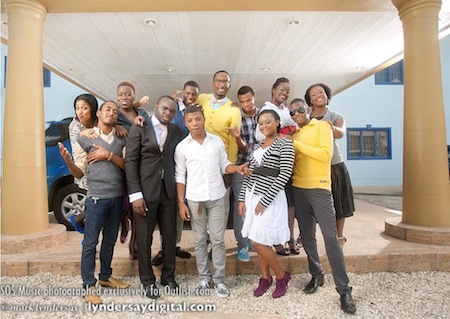 Anointed Fusion: SOS is More than Music
|
This isn't one of those groups that you hear at every Sunday morning worship service. In fact, this band is neither traditional, nor are they quick to stick to one lane.
The full-throttle, high-energy performance of this band is almost addictive, when they get on stage. Their eclectic sound consists of a mixture of R&B, rock, funk, and even alternative, as there isn't a particular genre that the band focuses on. Instead, they prefer to call what they do an "anointed fusion".
Chatting with Dwayne Thomas and Gary McSween, two, confident, young men, who are best friends and the band's leaders, I can tell that SOS' energy can only be described as vibrant, articulate, and focused. With powerful, captivating vocals, and extremely talented musicians, SOS (Source of Strength) is fresh, vibrant, and unapologetically Christian.
The brainchild of Thomas, SOS was launched in January 2010, and consists of thirteen members – with eight vocalists and five musicians. McSween (who also doubles as administrative coordinator), Talitha Mohammad, Aneesa Paul, Llettesha Sylvester, Akia McFarlane, Oneisha Dardaine, and Marc Isaacs round out the team of vocalists. Charles Ryan is their musical director, Kristian Dick – their drummer, Rondell Joseph – pianist, Kellon Archie – guitarist, and Joshua Caines – pianist. Thomas doubles as their musical coordinator.
"Coordinating 13 people is a challenge, but it builds your muscles both physically and spiritually."
"The members of SOS knew each other even before we became band mates," McSween explains. "There are smaller groups of friends within the band that knew each other for years, and so we just met up with each other at different junctions in our lives and eventually SOS just flowed right after."
Creating a buzz and slowly making their mark within the local gospel circuit, the band has made steady strides in just one year. In early 2011, SOS toured Canada and hosted music workshops, at the invitation of Agape Ministries, a Toronto-based church.
In September, they hosted their first concert, "Qanah" (pronounced kah nah) at Faith Centre in San Fernando, which received overwhelming support from loyal supporters, and fellow gospel artistes in the local industry.
Qanah, which means "to create" in Hebrew, was fitting. Though the band performs cover tracks as well, they also write original songs. Having released two singles, "Transformed" and "Hallelujah", this year, SOS is receiving heavy rotation on local gospel stations, their music is available on iTunes, and they're selling branded merchandise via their website.
And it doesn't stop there. Calling themselves, a movement, and not just a band, SOS also has a non-profit foundation – SOS Foundation, where they use the power of music to uplift communities through workshops and programmes. Mentoring young kids and formally training them in music, while incorporating an appreciation for indigenous music – Soca, Calypso and Parang – their vision is to plant SOS throughout different parts of Trinidad, and then, perhaps, regionally. The Foundation has also partnered with a few organizations to support cancer and AIDS awareness programmes.
Pretty impressive for such a 'newbie' group, right? If they maintain this momentum, they may well achieve their ultimate dream – to one day make music their livelihood.
The band's next plan is to complete their first album by 2012, and to produce a second album within the next five years. They're also considering touring the Caribbean, and reaching as far as Australia.
Hailing from the east, and deep south (one member is from Mayaro), members of the band juggle full-time jobs and school, all the while ensuring that SOS is a top priority. Understanding that it takes dedication to achieve greatness, they also do their best to support each other, no doubt helping to deepen their bond as a unit. They even attend each other churches, from time to time.
Everyone plays a role in the creative process – no doubt drawing from their individual experiences and shared influence by artistes like Stevie Wonder, artistes from the 70s, and D' Angelo, and gospel artistes like Tye Tribett, Mali, Marvin Sapp and Israel Houghton.
Explaining how they usually come up with ideas for songs, Thomas says, "Generally if Gary gets something like a melody line, he will send me a message on BB one time".
They usually meet up with the other members of the band, and start vibesing with each other to expand ideas.
"We just start to write," Thomas adds. "It's really random. There isn't any set way. We are now developing the formula as a group because we also believe in formula as well. So generally this happens with the vibes and inspiration with the people there and we keep going until the song is done.".
McSween adds, "The topics are limitless and everything relates to life."
A word of encouragement, empowerment and sharing positivity is usually the inspiration used for their songs,. SOS want to attract all listeners and reach a wide community, but still be able to carry out its main purpose – to encourage people and seek strength in God.
Music production is undertaken by Cleon Richardson, owner of Camari Studios, and Charles Ryan, while Thomas and McSween are co-producers. Now I can imagine how hard it is to manage just one person, let alone a band. It couldn't be an easy feat, as with any group or band there will disagreements – yes, even in Christian bands.
"It's crazy, generally," says McSween, who has to stay abreast of scheduled appointments and organize the band's activities. "Coordinating 13 people is a challenge, but it builds your muscles both physically and spiritually."
"We don't want to make it sound all 'honky dorky'," Thomas adds. "With 13 people, different personalities and ideologies, trying to fuse together under one vision and concept… of course there would be friction at times. But we work it out among ourselves, and get advice from other people as well."
Apart from dealing with different personalities, another big challenge the band faces is logistics and meeting each other consistently. Practice sessions are usually held once a week, and they are rigorous, because the band has to facilitate work and school schedules, so they try to make each practice count and get as much productivity out of it as possible. However, when they have shows coming up, SOS meets at least three times a week.
The band members' know that there isn't room for mediocrity, realising all too well that opportunity can come knocking at any time.  While Thomas and McSween are the driving force behind SOS, generally the workload is split among band members so that no one becomes too overwhelmed. Charles Ryan (musical director) and Thomas coordinate the musical direction of SOS, while McSween and Oneisha Dardaine (vocalist) handle administrative duties and vocal training. McSween is also the marketing guru behind the band, managing their social media networks, website, and other areas.
"You have to maintain a certain quality and standard," McSween says. "The international acts that are well established are presented at a certain standard. So SOS tries to maintain that standard even though we are an independent group, and we're not signed to any record label."
"Our goal isn't necessarily to be known all over the world or anything like that," Thomas adds. "It is just simply being able to go as far as God takes us. But we will do everything that is deemed necessary in marketing ourselves as well, but we don't want anyone to think we are anyway about show. We bless God for making us look good and for our talent, but it isn't about show for us. We are musicians. We're not just singing some songs. Music is our life."  As the interview wound down, I asked Thomas and McSween to share some advice to young persons who also wish to start a band, and the process involved in accomplishing that feat.
"I will say to any musician or singer out there, become skilful in your craft," Thomas advises. "Nobody wants an architect to build a structure if he isn't skilful. In the Bible, persons who were given the responsibility of dealing with music in the sanctuary were skilled and selected. It wasn't just anybody picking up an instrument and playing."
Just picking up and instrument and playing certainly hasn't gotten this group to their current status. Commitment, focus, talent, and belief in their source of strength – God – are the credits for their success. Add their dedication to inspiring young children, and you know this group still has more strides to make.
Listen to their music at ReverbNation: reverbnation.com/SOSINCMUSIC
Keep up with SOS @:
Photography by Mark Lyndersay of lyndersaydigital.com