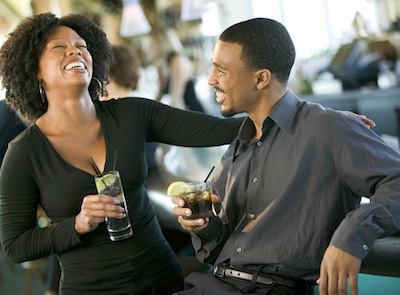 A Letter to Awesome, Single People Everywhere
|
I'm writing this for all of the single ladies out there, who love someone, and who never get the guy they actually want. I'm writing this for those of you who think…wait…know that you're a good person who has something great to offer anyone who's in your life.
I'm writing this for those who always get described as amazing people, yet somehow, your 'amazingness' still leaves you in Spinsterville. I'm writing this because I am one of those women.
I'm also writing this knowing 'full well' that some men may relate. And not just the nice guys who finish last, but also the tougher ones, because at some point, even tough guys want love too, as movies, glorified gangstas, and such will show you. (Thanks "American Gangster" and "Fast and Furious".)
So, is being single well into your adult years a matter of fate, timing or a reality that some of us just have to face?
Life doesn't always go the way we want it to, and sometimes somewhere far out there, there are someones (and yes I mean someones because I don't believe in "the one") who would be a great fit for us, but we never meet them. Or, we do meet someone like that, but, for whatever reason, a solid relationship never pans out, and it may have nothing to do with either of you being bad people. So, is being single well into your adult years a matter of fate, timing or a reality that some of us just have to face?
When you reminisce about relationships, where it could have all been so simple, but we liked to make it hard, or potentially great partners who talk the talk, but never make it happen, do you wonder why, as great as you are, you're all alone? Do you put on some Maxwell or Adele, and nurse your sorrows over a glass of wine or a shot of puncheon? (Public service announcement: "Whenever, Wherever" and "Someone Like You" are no nos when you're in a melancholy mood people, as is puncheon.)
…do you wonder why, as great as you are, you're all alone?
Still, you know that life isn't just about being someone's boo, right? So you get over your momentary insanity, and, if you're like me, swiftly switch to some Hip Hop or Rap to bring you back to clarity. Nothing takes you out of a depressed mood like singing, "Champagne wishes, 30 white bitches, I mean the sh*t is…f*cking ridiculous". Thanks Kanye.
Truth is…being a great person is not a guarantee that you'll ever get coupled up. Unfortunately, we're not born with birthmarks in the shapes of G or B, to let us know who's a good or bad person, and none of us have barcodes embedded in our wrists, so that we'll know when we've met our match. You just have to live your life, and hope that goodness, in whatever form, comes your way.
You have to be open to the fact that nothing guarantees you romantic love, and good love at that. So it makes no sense wondering why your crazy, psychotic cousin has a great man, but you're still here waiting on Prince Jason who goes to Aura every Friday night, while you're home watching old reruns of reality TV shows.
It makes no sense trying to analyse why the man who you were making great plans with suddenly does a 180 degrees on you, with no explanation, even though you honestly never did anything wrong. It makes no sense wondering why some women will choose a 'bad boy' over a mature, caring man who won't mess with her head.
It also makes no sense being jealous of someone who's in a relationship
It also makes no sense being jealous of someone who's in a relationship, because that person may have a physical person to hold on to, but behind closed doors they know they're really lonely and unhappy.
Along with knowing your worth, you just have to accept the moods and moments of "what's wrong with me" self questioning, venting about how "men good for nuttin" or "women bad", or thinking about what coulda, shoulda, and woulda.
Not all of us were put on this Earth to go forth and multiply. Not all of us were put on this Earth to happily shake our booties to "Single Ladies", while wearing a wedding band.
Do you have friends and family, who you think are really nice people, who would make great partners, and wonder why they're being passed over? The cynics might say, "Well something ha' to be wrong wid dem!" Not necessarily. You can actually be Grade A material, and still no one will give you a gold star in your notebook of love.
One of my friends has an interesting concept. She wonders whether sometimes we're paying a price so that someone else in our circle can be happy. Kinda like your mentors, parents, aunts or uncles who didn't have much luck in love, but their children grew up to have fruitful lives, successful relationships, and even marriage.
Growing up, we're so much more hopeful about love. When we're older, issues, emotional baggage, and shifts in mentalities get in the way of smooth sailing. Some people sabotage potentially great relationships by refusing to give a great person a chance. Sometimes great people pay for the sins of the not so greats of the past, leading us to the woulda, coulda shoulda pile of regrets, and wondering why someone couldn't let go of the negativity, and give us a fair shot.
Still, to the single person in search of love reading this, who's to say that romantic love won't get you in your older years? And if it doesn't, have you figured out how to stay confident and happy regardless of what your Facebook relationship status says?
Having someone to love is nice. There's no disputing that. However, for some of us who aren't sure when love will find us, we just have to keep doing our do, and know that single, taken, or somewhere in between, it doesn't mean that something is intrinsically wrong with us. The question is, how do you openly accept the fact that you may be awesome and alone? Only you can find the answer for yourself.
Image credit: essence.com