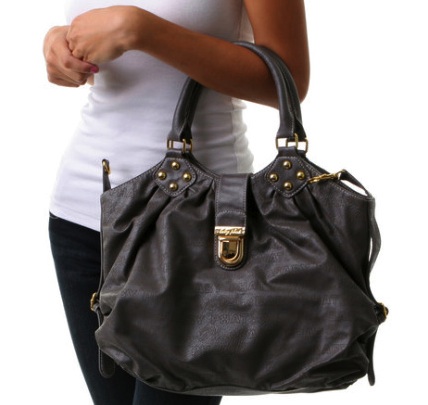 8 Reasons Women Put So Much Stuff in their Bags
|
Most of my friends will tell you I'm not a girly girl. I hardly comb my hair. I hardly wear makeup. I don't plan outfits way in advance. I still wear the silver hoops my mother sent me for Christmas in 2005, when I lived in London, every day. And I can easily walk out the house without looking in the mirror. But the one thing I do share with womenfolk worldwide is the tendency to put a tonne of unnecessary items in my handbag.
I used to be one of those women who'd only buy those ridiculously large tote bags, because well they could fit every and anything. Then after a close friend kept telling me to clean up the mess my bag was always in, and every bag meeting its demise due to busted straps caused by too much weight, I told myself, "Really Karel, you don't need 90% of the mess in there", and I switched to clutches. Problem is, I stuff those too. It's amazing how much those small things can fit!
Now, when you compare this female habit of bag stuffing to that of our male counterparts, who simply carry a wallet (unless they prefer a man purse), it really makes you wonder what about our brain wiring could cause such different behaviour. So when one my male Twitter peeps suggested I write about why women carry so much stuff around, I understood his curiosity, because honestly, not even I know why we women compulsively pack loads of sh*t in our bags. After wasting loads of time on Facebook, and watching Wiz Khalifa videos on YouTube, this is what I came up with.
1. Women like having things they don't need
… like men (kidding). Though if I could, I'd put Blair Underwood or J. Cole in my bag so I could (insert rude things here). I digress. Seriously though, women compulsively like to put totally unnecessary items in their bag. Like do you need to keep two bottles of Arista nail polish in your bag? What are you going to do with that old stub from Movietowne? Do you think that keeping that old Tunnocks wrapper in your purse is going to save the environment? No. So throw that ish away.
2. They also like having important things at their fingertips
The word important is subjective in itself, so if a puppet of Sponge Bob is important to me, it goes in. See, what goes into a woman's handbag is dictated by what said woman thinks is important for her to carry around. So each woman's needs differ based on her lifestyle.
If she drives, her shoes mightn't go in her bag, because they can go in the car. If she travels via maxi, she's likely to have sandals in her bag. If she's into her looks, she'll definitely have a tonne of beauty items. If she knows she's a wannabe Samantha from "Sex & The City", then Trojans of various sizes will be accompanying her everywhere she goes. You get my drift.
Realistically, all I need are my car keys, house keys, cell phone, wallet, and lip balm. However, you used to find gum, two notebooks, a book in case I got bored somewhere, iPod, pens galore, empty gum packs from months ago, a comb (which I'd hardly use), a makeup bag (again unused), chamomile tea bags, phone charger, tablets (not iPad sadly, medicine), lotion, face wash, snacks, old receipts, empty wrappers, random small change, toilet paper… and the list goes on. At one point, I even carried a 12-inch Macbook in there. For me, these were, and still are, important.
3. Just in case they need something, it's there
If someone was to buss into KFC and say, "I need food that hasn't been frozen for a million years", some woman would whip out fresh corn on the cob, a rooster who just got his freak on, and potatoes from the Tunapuna market. I know… random thought, but that's just as random as the things in a woman's handbag.
Most women will tell you that the number one reason they carry so many items in their bag is because they never know when they'll need something, and it makes them feel prepared for any situation. According to one friend, Des, "It's because I really don't want to be caught away from home in need of ANYTHING. It's super anal, I know, but I remember having to use the bathroom at the POS licensing office where there was no toilet paper and no water, and if I didn't have a couple of sanitising wipes on me, I'da left with cholera or something…"
That logic seems perfectly logical to me. And you know what? The one day you take something out, that's the one day you'll need it. We ladies can bet two million Soca Monarch dollars on that!
4. Just in case the just in case stuff doesn't work
A computer whiz will always tell you, "Back your sh*t up, back up your back up, then back your sh*t up again". Women know the importance of backing up the backup just in case the 'just in case' plan fails. I'm happy to say I'm reformed in the 'just in case' thing, and don't put as much stuff in my bag anymore. Now, I keep everything in my car.
5. They're messy and disorganised
It's not that they plan to have all that stuff. Honest. They just never clean out their bag, so stuff builds up over time. I'm sooo guilty of this, and I have no qualms in saying that I'm one of the messiest women you'll ever meet.
6. They never know when they need to save the world
Now we all know that a woman's purse can hold more stuff than Batman's utility bell (thanks @selinyelsew), but, as a fan of all things Justice League, I have an even greater understanding of this reasoning. Walking around with a container of thread and needles sounds like a good idea in case the button on your worksuit pops off. The same thread and needle might also come in handy, if you find yourself in a MacGyver situation on Independence Square.
7. To fill the space so it won't look empty
A big, empty bag is not fashionable. I'm no fashionista, and even I know this. A woman's handbag is a fashion statement. It's an extension of her personality and sense (or lack) of style. Regardless, she knows that some spaces must be filled, because it's not necessarily about functionality. Stuffing your bag is about completing 'the look'.
8. It keeps them sleek, and hides flaws
Unless you're Huckleberry Finn, you can't fit a million things in your pockets. Plus, your skinny jeans won't look too sleek. Fashion tip: Bulging bags hide bulging bellies. Woman tip: Bulging bags keep you men scratching your heads about us.
So guys, these are just some of the reasons why we women carry so much ish around, and if you really want to get an idea of how a woman's mind works (especially those who like to pretend dey orderly), all you have to do is look inside her handbag (though you might get stabbed for that). Women are always looking for something new to stuff in there. So the next time you see a woman furiously searching through the million compartments in her bag, walk up to her, and say, "Miss, wanna put me in there?"
Check out the rest of this week's issue (28/3/11; Issue 50):
Look out for a new issue of Outlish.com every Monday!