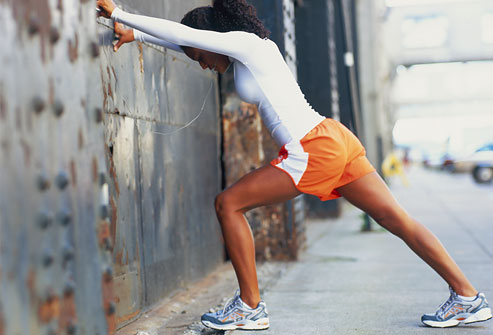 8 Irritating Things about Carnival Fitness Freaks
|
Having been generally 'wild', or having played some sport or the other for most of my young life, I never had to think about losing weight. In fact, I was encouraged to tuck away something solid, lest I float off. But (and here's the scary part kids), I wasn't destined to stay skin, bones and general marasmie forever. In fact, as you grow up this becomes starkly evident, or at least it should.
On our 1,981 square miles of planet Earth, however, the average Trini adult only recognises he or she is not the picture of health when the first Soca chune gets a spin on the radio, and they're forced to admit that they need to put some work in to look semi decent on the road. Now if you're a first-time masquerader, I can excuse the lapse. However, we have some veterans out here who always wait until the last minute to get rid of the lapping belly and miraculously uncover their six-pack, or secretly wish for a case of gastro.
Honestly, I'd forgive the last-minute antics if they weren't so damn annoying, and yes Carnival is just three weeks away, but it's not too late to put them on blast, because trust me, they get even worse as the big day(s) draws near.
Crowding Savannah regulars
The first sign of Carnival coming is often a glut of joggers, walkers, models and strutters around the Queen's Park Savannah, Eddie Hart Grounds, or whichever patch of grass does the workout trick. This upsurge of cardio-junkies is all well and good, but it can be annoying to the regulars. Imagine, if you can, you're driving a maxi and all of a sudden someone made it okay for other people to use the same road at the time it's busiest. Imagine the annoyance that would cause… Need I say more?
Posers aka models
The models are a problem by themselves. You know them. They can be seen popping the tags of their spanking new gear – with new iPod in hand, spotless sneakers, hair done, nails done, and make-up on point – and can possibly walk for hours without breaking a sweat. For them, the Savannah (or gym treadmill) is their catwalk, and the rest of us their adoring public.
Crash diets
Then there's Jean who trumpets the start of her 'CK11 diet starting Monday', before hailing out KFC on speed- dial. Come Monday morning the diet begins, and at 3 p.m., the KFC delivery guy is making an incognito delivery of an unmarked package.
You're not fooling anyone but yourself Jean (or Melissa/ Stacy/ Chanchanee). It's either you're up to it or not. Plus, thickies in style, contrary to what Jenny Craig may want you to believe.
So crash the diets, and start earlier. If you know you're going to cheat anyway, please don't rinse out our ears about your soup, fruit or Atkins diet. Crash diets don't work, and are annoying to see attempted. Be guided accordingly.
Peacock behaviour
If you can stand the gym around this time of year, you'll encounter a sub-species of the model – the peacock. Identified by the only recognisable sound above the spin class instructor, and by a full coat of fluorescent spandex, this creature constantly bellows, sighs, grunts, claps, and does jumping jacks. The peacock (or peahen) would like you to notice him (or her). Admittedly, the male of this species is the common perpetrator, and so his first set of ten sounds like his fifth or six contraction. You almost expect to hear a Carnival baby cooing when he's done.
Strong men who huff and puff for girl exercises
Then we have your garden variety, strong men who look at fellas in the step aerobics or spin classes, laughing at them and generally ridiculing their athletic prowess. That is, until they decide to try it. One minute they're spinning, next minute they're huffing, and by the third minute, they're semi-limping out of the class, trying to pretend that a little taste of cardio didn't just kick their a$$.
Territorial regulars & tottering novices
The regulars can also be quite annoying. By regular, I don't mean three to four days a week. I'm talking about those who literally live in the gym, have their own blender in the staff kitchen to make their protein shake, and have a favourite bathroom stall. People… if yuh name not on the front of the building, then it's not yours.
The newcomers are also keen to assert themselves in the intimidating surroundings, and, often, compensate for their inexperience by going overboard. The result, more times than not, is a sharp yelp, followed by snickers (no Chubbs not that kind), and damaged muscles, not to mention egos.
Hygiene
When Machel charged all hard workers to identify, he didn't mean create a signature musk or leave puddles of perspiration in your wake. Is not a scene to sit down to do a set and slide off the equipment, but seriously, if it's not too much trouble, wipe down de people ting and dem when yuh done please. Thanks.
And while we're on the topic of hygiene, the need for anti-perspirant cannot be stressed enough. In school, we used to just throw a three-pack of Protex or a blue soap at Stinky. Now, the constant availability of machines downwind should be a dead give-away dat yuh kickin'.
Hoggers
Have you ever been home, and on your Twitter feed Harry aka @strong_man is "now walking in the gym, about to benchpress an elephant and checkin' out Anya on the treadmill?"
Meanwhile, in the real world, Harry is sitting on the bench, exchanging tweets, while a queue longer than Sauce own on a Friday night forms behind him, and the trainer has to loud him up. That eh cool hoss. Keep it moving.
Oh and on using cellphones in the gym, around the Savannah or any place of athletic endeavour… no. Really. No. That is all.
So what did we learn today kids? Unless you're predisposed to forever looking like you were conceived, born, and raised in a gym, then you should definitely start preparing that Carnival Monday and Tuesday body way in advance. If you know you're playing mas next year for sure, that would mean starting from this April (and yes, that's a whole 11 months before Carnival 2012). I'm not the first person to plead this cause, and I know I won't be the last, but some way, somehow, could we make the irritating, fitness freak behaviour stop?
Check out the rest of this week's issue (14/2/11; Issue 45):
Look out for a new issue of Outlish.com every Monday!