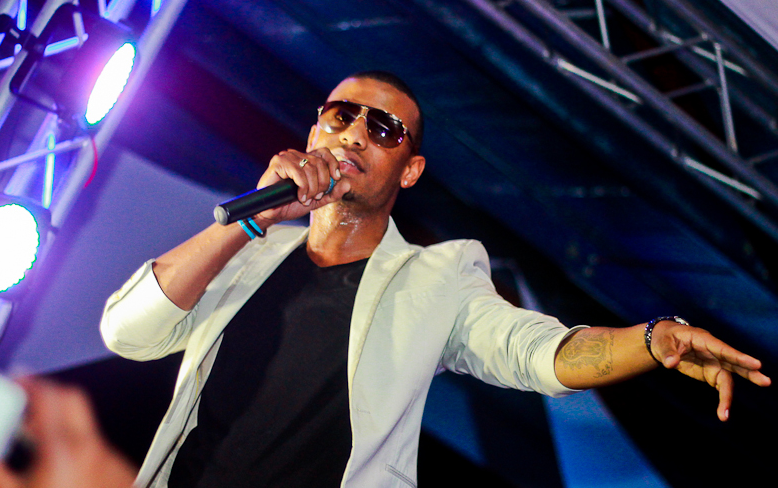 5 Things Soca Artistes Should Sing About
|
In Soca, Trinidad and Tobago has an original, unique genre to call its very own. Yet, the consistent problem is that outside of Carnival, there is rarely a place for Soca on the radios or at parties. Other than the "our DJs need to play Soca in order for people to love it" chorus, I hadn't been privy to any suitable and attainable alternative, nor had I heard a plausible reason as to why it's only played during Carnival in the first place, with just a few spins outside of the season.
However, a friend of mine recently pointed out something important to me – every mainstream genre has in abundance something that Soca lacks – diverse and relatable topics From love, to heartbreak, to sexuality, to social commentary – the foreign genres that populate our airwaves have these in abundance. Soca rarely has this. This not only robs us of any opportunity to hear our music played, it also denies our genres the chance to be hugely internationally recognised.
So I sat down and thought, what are some things that I would like to hear in Soca music other than wine, jump and wave?
1. Relationships
Whether it's about how happy a girl makes you, or the complete opposite, who can't relate to hearing a song about relationships?
Everyone – from teenager to grandmother (and even pre-teen now, with the current climate of the world) – has probably had a relationship, whether good or bad. Not to mention that in other genres like R&B, Jazz, Rock and Pop, some of the hugest songs are either love songs, or deal with relationships.
The reason I chose this topic first is because we've actually had first-hand experience in Carnival 2012 that these topics can give you a long-lasting song. We were introduced to "Over You" and "In Your Eyes" – two of the biggest songs during this Carnival season – by Kimba Sorzano and Erphaan Alves, respectively. Even in June, I hear these songs played during my very rare listen to the radio. I call for more of the same next year.
2. Sexuality
Just like relationships, sex has become the new black. In our society, it still carries a bit of taboo, especially when we talk about it, but that doesn't seem to stop us from doing it.
Not a single popular genre is void of sexuality – from the lovemaking grasps of R&B, to the vividly descriptive lyrics of Rock, to the graphic and sometimes misogynistic rhymes of Rap, and even the straight to the point sexual topics in Pop (unless ladies, you've forgotten what Enrique Iglesias plans to do to you tonight).
It's no coincidence that I regularly hear "Come Gyal" from Kes, or recognise that the younger citizens are still into The Mighty Sparrow's "Congoman". Once we bring forward the topic in a way that fits in line with our norms, and is relatable to Trinbagonians, I can see sexy socas beating out the airwaves all year.
3. Personal experiences
Art imitates life. No matter who you are, you're bound to find one piece of art internationally that you can somehow relate to, even if it's nonsensical.
Music is the ultimate culmination of that, because, through words, it offers listeners a direct link between someone's familiarities and possibly their own. That's why songs like "Yuh Wuh Sum Sorrel or What" could reach the heights it has. What Trinidadian doesn't love sorrel? Even more recently, the local Hip Hop song "Suckabag" gained some popularity. It's a rare day that we get to see that in Soca. I think it would be huge if we did.
On a small scale, Iwer George does this, because his perceived lack of lyrical ability (which you would know is very untrue if you listen to old Iwer albums) is easily replaced by the fact that everything he sings is a reality of Iwer George. Iwer goes to fetes and sees hanananananananananans every year – that's the real him. The fact that he is about the life he speaks is translated in his energy, because it is almost effortless for him to just be himself.
However, with no offense to Iwer (I eh want to have no tension to ease), I would rather someone just came and sang a Soca about something they've experienced in everyday life that we could all relate to.
4. Club banger
This is actually already happening in Soca, although we've dubbed it a new genre – Island Pop. In Rap and Pop, it's an easy formula to have a club banger – a heavy bass line, a catchy (and preferably repetitive hook… hi Iwer), and lyrics about things related to going to the club (getting ready, how you dress, what drinks you'll have, how and who you'll dance on, making references to what the DJ will do, and to other club bangers, etc.).
It's about high time we had something like that in Trinidad. The current fast-paced Soca can cause one to become tired very quickly and overly sweaty, something you wouldn't necessarily want when you're clubbing.
If there were more songs like Kes' "Where Yuh From", and Machel Montano's "So High (A.O.A)", not only would we hear more Soca on the airwaves, but our experiences at 51 would also have more of Mr. Fete, and less YMCMB, Rihanna, Chris Brown, or The World Boss.
5. Social commentary
I want to clarify what I mean by this, because usually when I say this to people, they automatically think of a negatively constructed, political rant. Not the case – it's merely an attempt to shed light on a topic or issue that affects us all as a society.
Whether it be about our great sportsmen, about the lack of paved roads in certain areas, to rising food prices, to songs about Ian Alleyne's work against crime – social commentary can vary from positive to negative, and chances are, it will either give us as a people the chance to relate to something deeper than partying, or it will teach the masses a few things about their country that they may not have ever known. Plus with a social commentary, while entertaining people, you also invite other songs and opinions on the matter, thus educating people and killing two birds with one stone.
Some may argue that it can't be done, but I rather say that it can't be done in the TRADITIONAL way. Why on a slower Soca beat can't someone put forward a social commentary in a way that Trinis will relate to? That's the mark of a great lyricist – to bring forward his lyrics in a way that is so relevant to the time he's in that people have no choice BUT to appreciate it.
Obviously, depending on the topic, a social commentary might only be popular for a time, but – as some of the great calypsonians and Bob Marley have shown us – even decades afterwards, a song about social issues can still be relatable…if you do it right.
I'm calling on the new boys who are already setting trends to attempt this, and change the face of Soca with a musical revolution, because the longer it takes to happen, the more social issues become something to escape with drinking and partying. Don't let the lyrical art form of Soca die the way we have let the importance of the steel pan fade. Someone else will pick up on its deficiencies, take our music and make it popular.
It's okay to sing extremely fast-paced Soca during Carnival season, with the jump, wave, wine and drink vibes, since it is relevant for that moment. Just remember the rest of the world doesn't spend an entire season, or even the two days we have for Carnival, jumping up, wining, and drinking, without working.
We need to diversify now, or Soca will not only be non-mainstream, but it will also slowly be pushed to the back by foreign genres such as Rap, Rock and Pop in our own country – not just on the airwaves, which has already happened, but also in the talent department. See how many rappers (including myself) there are now? Have you noticed the recent emergence of popular Conscious, Pop and Rock artistes locally? That's because they don't want to be bound by the lack of diversity in local genres.
Although Soca is internationally recognised, I think I can speak for most Trinidadians when I say we want Soca to be a hugely mainstream art form, like Reggae and Dancehall. I think I also speak for most when I say we want a Soca/Calypso category at the Grammys. That can only happen when we realise that as a country, we have actually created an internationally recognised genre of music, something not many individual nations can say. That in itself already sets us apart from the rest, and should be a reason to cherish what we have and develop it as much as possible.
It's clear that a fundamental change needs to be made to how we go about creating our music. And if you doubt what I'm saying, then ask yourself this question – why are you seeing a numerous Jamaican Dancehall and Reggae artistes landing major deals, instead of Rappers and Pop stars?
Image credit: fetedelamusiquetnt.wordpress.com