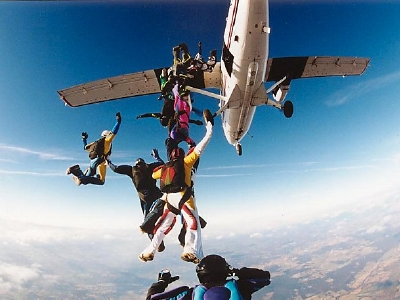 5 Great Places Trinis can go Without a Visa
|
Marli Street, Port of Spain. Five a.m., crack of dawn and Trinis are lining up to pay 140 US dollars for a visa to visit the land of the free and the home of the brave.
They'll be interviewed and asked about their job, salary, savings, gold teeth and their tantie nenen who living in Brooklyn and all she business. They'll be fingerprinted and smiled at occasionally.
Or they'll think twice, read this article, and consider some other great places Trinbagonians can visit without a visa. That's right, there are countries that welcome us without much ado or interrogation.
According to Wikipedia, there are approximately 91 countries and territories that grant visa-free or visa-on-arrival access to holders of Trinidad and Tobago passports. It's not likely that many Trinidadians will make use of the opportunity to visit the Federated States of Micronesia, almost 10,000 miles away in the Pacific Ocean, or have much inclination to visit places like Zimbabwe, Pakistan or Syria at the moment. Nevertheless, there are many awesome places that we can visit freely in the four corners of the Earth. Here are five great places to whet your travelling appetite.
Country: Brazil
Visa exemption: 90 days
Brazil is an easy sell for Trinidadians. The girl from Bahia was welcomed by David Rudder, and she has been welcomed ever since. Many of us grew up supporting their football team at the World Cup, and there is something romanticised about Brazil that makes most Trinis feel they would enjoy their time there. And it's true. Brazil is Trinidad on steroids.
We have nice beaches; they have thousands of miles of beaches. We 'throw' fetes; they have blocos with half a million people. We have beautiful women; they have beautiful women with fake boobs. We wine; they samba.
Sports fans should be salivating at the idea of catching either the 2014 World Cup or 2016 Olympics and I imagine both prove to be unforgettable affairs.
How to get there: Connect through Panama City on Copa Airlines or through Barbados on GOL airlines.
Country: Costa Rica
Visa Exemption: 30 days
Costa Rica is Latin America 101. It's an easy place to visit in a sense that things work there. The water is drinkable and customer service is widely practised in this small country that relies heavily on tourism.
Many hold up Costa Rica as an exemplar in sustainable tourism, and the country was a pioneer in ecotourism with almost one-quarter of the land area covered by national parks and protected areas.
One could argue that we Trinis are accustomed to forests, macaws and large turtles that lay eggs on wild beaches, so why visit? For me, it's the sight of active volcanoes spewing lava at night, seen from the bathing comfort of hot springs, piña colada in hand. Costa Ricans treasure and enjoy their pura vida lifestyle and Trinis will too.
How to get there: There-hour flight to Panama on Copa, and from there either one of many connecting flights, or an overnight bus ride through the back country of Panama and Costa Rica.
Country: Jordan
Visa Exemption: Visa issued on arrival for JOD 10, which is about $90 TTD
When I was a child, I saw a picture of a lady floating in the ultra-buoyant Dead Sea reading a newspaper with ease. I've been hooked on the idea of Jordan ever since.
The Kingdom of Jordan, home to six million people, may not be on the radar of many tourists from our region, but it should be. Camel riding, sand boarding, ballooning, desert rallying, canyoning, diving…the list goes on…and on.
In addition to all the activities on offer, Jordan is home to loads of significant, ancient sites including Petra, a UNESCO World Heritage city carved into a mountain. For those interested in biblical history, Jordan offers the chance to walk in the footsteps of Moses, John the Baptist and bathe in waters that baptised Jesus.
How to get there: Easyjet flies from London, and five-day holidays, including flight and hotel, start at £350.
Country: England
Visa Exemption: A whopping six months. Three cheers to you if you can afford to stay that long.
Jolly old England – our former colonizer – making the list of places for us to go 50 years after our independence from them.
London plays host to the Olympics this year, and things are already heating up with a number of test events allowing visitors to see the venues in action. Beyond the Olympics, London offers the Trini tourist an opportunity to overdose on culture and not just English culture, but everyone's culture.
London is one of the most diverse cities in the world with 300 languages spoken by its schoolchildren. A day in London could easily involve doubles for breakfast in Clapham, followed by a capoeira class in Brixton, an Ethiopian lunch followed by Turkish coffee with your Bulgarian friend, and a Pakistani film festival followed by an all-night Ibiza style rave. London has it all and as an added bonus we already speak the local language.
How to get there: Virgin and Monarch both fly from Tobago. British Airlines flies from Trinidad.
Country: Turkey
Visa Exemption: Three months
Turkey is different. Walk around Istanbul, and it's hard to compare it to other places you may have seen on TV or may have visited.
Istanbul, the largest city in Turkey, geographically sits in both Europe and Asia and the city's cultural offerings reflect its history as a cultural crossroads. It is home to amazing mosques that were once churches, museums that were once mosques and monuments dating back from when this city was the centre of the powerful Byzantine and Ottoman empires. Turkey is a real cultural juxtaposition, and deserves a second or third look.
How to get there: Connect through London. Flights to Istanbul can be found for less than £150.
The five great destinations profiled above are really only the start. Even with a Trinidadian passport, the world really is your oyster, and hopefully it will keep improving for us. Word on the street is that Trinis may soon not require a Schengen visa to travel as tourists to Europe. Wherever you decide to go, Outlish wishes you bon voyage!
P.S.: When you do visit your Trini friends in London, your welcome will be even warmer if you bring pepper sauce, kuchela, kurma, tamarind balls, salt mango, gram masala, black cake, frozen pastelles and rum.
Image credit: vacation-magazine.com