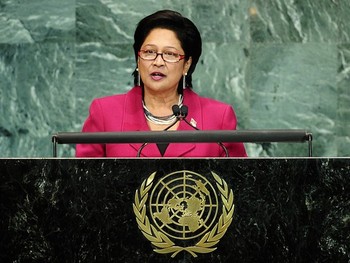 10 things I'd do if I were Prime Minister
|
Most Trinbagonians would agree that our twin-island republic isn't in the best shape. Crime, corruption, double-digit inflation and pollution are just a few of the issues Prime Minister Kamla Persad-Bissessar and her coalition government need to get a handle on.
Trinidad and Tobago's politics, however, has always been long on promises and very short on actionable plans. This is in part a reflection of our culture because Trinis love to engage in ole talk, but people does get real quiet when you ask them to tell you what they would do differently.
In requesting feedback for this column, some of the comments my editor received were:
"Tief money like crazy then buss out and go and live in ah country that does not have ah extradition treaty wid T&T."
"Shop! Oh and I forget… fix crime or world peace."
"Resign."
"Get drunk."
"Talk like a Trini and stop putting on a twang."
I could make a pretty good case that statements like these are a big part of our problem because Trinis seem to have a collective obsession with the superficial (although I'm willing to believe that some of these statements had to have been made in jest), but I digress.
Other more serious commentators focused on environmental health, affordable and accessible healthcare, free transportation for school children, new hospitals, sending police officers for social work training, establish real, budget transparency, and "snipping the strings that attach leaders to puppet masters". These are all valid issues that need to be addressed, and they reinforce my sense that now, more than ever, Trinidad and Tobago's leaders need a feasible plan that will ensure a better future for generations to come.
Now, if I were Prime Minister, there are several initiatives I'd get to work on. So here are the top ten things I would do in my first five-year term:
1. Phase out the gas subsidy
In 2010, the Government spent 2.7 billion dollars to keep the cost of fuel low, but couldn't find money to invest in essential social services like education, healthcare and transportation. This is a no brainer. Beyond the fact that we can no longer afford the subsidy, holding onto it is putting us on the wrong side of history when it comes climate change. Weaning ourselves off of cheap gas will definitely give us a couple million to spend on the rest of my reforms, and spur the creation of a viable, clean, energy sector. Barbados saves about $US 6.5 million a year in fuel costs as a payback on their investment in solar water heating systems. We definitely need to get in on that.
2. Stop automatic entry to secondary school and pay teachers more
Frankly, Trinidad and Tobago has a crime problem in part because we have too many illiterate adults, giving birth to illiterate children, who make it to our secondary schools only to flunk out and become troublemakers. We need to fix this. Pre-school can't be for the well to do or middle class only, because the achievement gap starts here.
Our teachers also need better training to be able to spot children with learning disabilities, and we've got to have remedial programmes in place for slow learners. We may not want to leave any child behind, but promoting students who aren't ready to move from the primary level to secondary school creates more problems in the long term. We also need to tie teachers' pay with performance. I had teachers who went above and beyond for me to get where I am, and they should be rewarded for that.
3. Remove corrupt and and irresponsible police officers
Too many of our men in uniform are criminals, functionally illiterate or otherwise unsuitable to provide such an essential service to the population. This is not to knock the hardworking men and women in uniform because I'm related to some, but Trinidad and Tobago is too darn small to have such an outsized, crime problem.
If the man on the street knows who is bringing in the drugs and guns, you can't convince me that law enforcement doesn't know. Don't bother telling me you don't have enough evidence to build a case either, because if that's your excuse I'm going to tell you that you're not working hard enough. There are too many officers clearly living above their means with no questions asked, and another couple hundred that need to re-learn the meaning of the words "protect and serve". Officers who make a habit of talking down to citizens and (or) pulling rank have no place in a modern police force, so I'll take that badge and gun back.
4. Revitalize the private sector and develop service-based industries by improving access to capital 
Entrepreneurs need access to relatively cheap capital, and, frankly, we need new export industries in services and cultural products. Carnival isn't enough and our tourism industry is in a bad shape. Our energy sector is capital intensive and doesn't provide a lot of employment opportunities. A return rate of ten jobs for a billion invested isn't going to get us to "First World" status.
We need an empowered, private sector to create service industries that will remove the burden from the Government of providing employment for the thousands of young people entering the workforce every year. Government action alone cannot create sustainable employment; so we need to nurture an entrepreneurial sprit among would-be business owners by providing them with seed money. This is the only way to ensure an economic recovery that creates jobs.
5. Decrease Government expenditure on welfare programmes that don't work
The Government is not an ATM, and, allegedly, there's way too much corruption in the distribution of government funds. If a particular programme isn't meeting its target goals year over year, it will be cut. I'd also increase the retirement age and look to keep certain high-skilled workers employed in an advisory capacity.
6. Install video cameras along the roadways and at key intersections
Speeding kills, and we need extra funding to improve public transportation. I'm betting that receiving speeding tickets in the mail for going above the speeding limit, and/ or causing near accidents will make offenders more cautious and free up some much needed man hours for the protective services.
7. Impose curfew, noise limits and litter rules for clubs in residential areas 
I love to party, but there is absolutely no reason for clubs like Coco Lounge to remain open till 4 a.m. in residential areas, especially if there's no environmental inspector out to ensure that the decibel level remains at a respectable level. I'm not trying to rain on the street parade either, but throwing bottles and plastic containers down at the side of the street or in drains causes flooding, so we need trash containers on every street corner in areas with heavy, foot traffic like Ariapita Avenue on a weekend night.
8. Renovate hospitals, institute prevention programmes and mandatory STD testing 
The current overcrowding and dilapidated conditions at the San Fernando and Port of Spain General Hospitals are abhorrent. Our facilities need to be upgraded, and our healthcare professionals need to be reminded that this is about patient care. I'll tack on expanded prevention programmes for diabetes, hypertension, heart disease, sex education and mandatory STD testing under this as well.
9. Implement a public education/service programme called Government 101
Too many Trinbagonians have the wrong idea that the state owes them a living. This programme will break down how the Government earns revenue through taxation and the sale of energy, and uses that to provide key services to the citizenry. We've got to change the status quo and get the next generation to think about what they can do for their country, not what their country can do for them. Public service is not about getting rich; it's about building a sustainable future for the next generation.
10. Ensure merit-based pay and promotion based on experience and qualifications 
If the recent SIA appointment scandal taught us anything, it should be that there isn't nearly enough transparency in the way people get chosen for key, public service appointments. For far too long success and promotions in Trinidad and Tobago have been about whom you know, and how long you've been in a particular department, not how well you can do the job. Not on my watch.
I have no problem with nepotism, as long as the person being appointed is qualified, competent and meets clear performance metrics. We might even get skilled locals like me to return home. If nothing else, the competition will keep our best talents sharp and hungry.
So what do you think of my plans? None of these programmes offer a magic bullet, and will no doubt cause some measure of discomfort for all of us; and that is the point. Nation building is hard work. I'm pretty certain some of you are breathing a sigh of relief that I'm not the Prime Minster; in any case this is my two cents. What's yours?
Check out the rest of this week's issue (14/2/11; Issue 45):